After gift-giving for Christmas comes Chinese New Year, where many Chinese families soak in the festivities as they celebrate the start of a lunar new year.
While you may see lesser people wearing traditional Chinese clothing to go visiting, the tradition of giving two oranges and red packets for luck still remains. In fact, many traditions that are practiced especially during Chinese New Year are considered auspicious.
Beyond red packets and oranges, one of the most important meals around the Chinese New Year season is the reunion dinner, and families often head out to have a Chinese New Year feast together with their loved ones.
Here are some traditional Chinese food that you can consider incorporating into your Chinese New Year menu:
1. Ikan Panggang bersama Sos Buah Keras: Attaining good luck with fish
Traditionally, the term for fish in Chinese sounds similar to the word "surplus", fish are believed to increase prosperity. In fact, eating different types of fish also symbolise different things based on their auspicious homophonics.
As the first character of Crucian carp in Chinese sounds like the Chinese word for good luck, eating Crucian carp is considered to bring good luck for the year ahead.
Additionally, fish are rich in protein and Omega-3s, providing a healthy and delicious double benefit.
Roast the fish until golden brown and sprinkle it with an overflow of hard fruit sauce. This delicious dish can be served with steamed rice, Japanese tofu and lemon slices on the side.
2. Aneka Ladu: Welcoming fortune with dumplings
Dumplings are often associated with money and wealth due to their resemblance to silver ingots. Some say the more dumplings eaten on Chinese New Year, the more money will be earned in the future.
In addition to traditional fillings that consist of minced meat and finely chopped vegetables, you can try more exotic flavors such as farmer's cheese with Chinese flavors, taucu and Sichuan pepper. Serve with different types of dipping sauces for different taste sensations!
3. Kuih Bakul: Going a level higher with Traditional Chinese Kueh
Nian Gao or sweet glutinous rice cake is a traditional Chinese kueh during Chinese New Year as it is symbolic with a rise in level in the coming year, whether it's for your career, studies or more.
Traditionally, it is a dessert made from glutinous rice together with sugar, chestnuts, Chinese dates and lotus leaves. However, chefs are getting more innovative and have started preparing them in a number of ways; you can choose to add grated coconut, fry with batter or rub with chocolate sauce.
If you want to remain your traditional touch, serve it with a glass of sweet tea.
4. Itik 8 Inti: Abundance for the year ahead with 8 special ingredients
It is an elegant dish that brings happiness. A common dish served at a luncheon or dinner party and shared around the table, the Eight Treasure Duck dish symbolises good fortune and abundance.
As the name suggests, it comes with eight types of fillings and you can explore and create sensational flavors with ingredients like lean chicken, barley, gingko beans, dried chestnuts, lotus seeds, dried mandarin orange peel, shiitake mushrooms, ginger and more.
5. Udang Serbuk Cornflake: A year of joy ahead
This delicious dish lifts signifies joy and happiness. The best way to prepare the prawns are to fry them in saturated oil with chopped garlic, green leaves and a little salted egg powder.
If you want to add more style, sprinkle buttermilk on top. The combination of salted egg powder and buttermilk makes it the perfect dish with mantou bread, but feel free to experiment and follow your taste.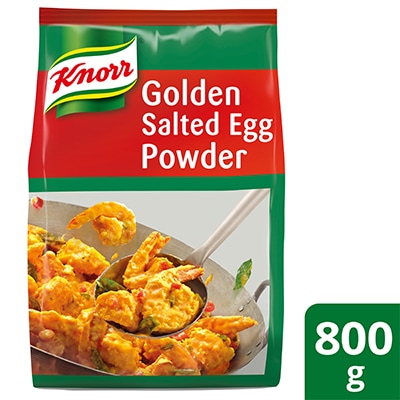 6. Bebola Bijan dengan Aneka Inti: Ushering luck in
Eating fried sesame balls is said to help increase your luck. This is because this traditional Chinese New Year snack is a nice round shape and golden colour when fried, thus representing luck. Traditionally, the ball of dough is fried in saturated oil, filled with red bean paste and then coated with sesame seed. It is considered a delicacy in Malaysia.
Other than red bean, pandan, kaya and chocolate can be used to fill the core of the sesame ball. If you want a local taste, sambal belacan can be used as a substitute to add in a kick of spice. This mini size snack is perfect to enjoy with a cup of coffee or hot tea.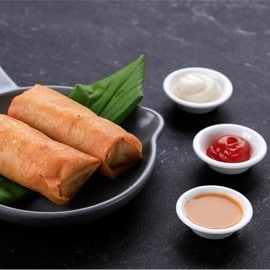 7. Popiah: Ushering luck in
Popiah is traditionally enjoyed during the Spring Festival, just like its name. However, it is now also a popular Chinese New Year dish in provinces in Eastern China such as in Jiangxi, Jiangsu, Shanghai, Fujian, Guangzhou, Shenzhen and Hong Kong.
For individuals of Cantonese descent, popiah is part of a dim sum dish. To many, this is a dish that signifies wealth. This is because popiah look like gold ingots.
Popiah is a cylindrical roll filled with vegetable, meat or something sweet. Feel free to explore different fillings! The core is rolled with pastry skin that will be fried until it becomes a golden brown color.
Now that you've gotten some ideas on the dishes to add into your Chinese New Year feast menu, check out some products that will make the cooking process a lot faster in the kitchen, which is ideal for the busy festive season.