People celebrate love throughout the year but there's one day that's extra special – Valentine's Day. Here are four tips to give your diners the full Valentine's day experience.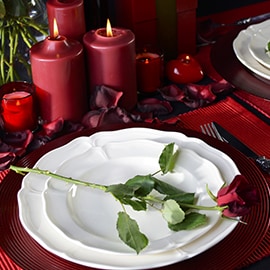 Decorations
The restaurant or café should exude warmth. Candles are mandatory, with flowers placed in the middle of the table. Large paintings add charm to a sophisticated restaurant. The dishes, utensils and linens you choose will also enhance the desired ambiance.
The background music should be soft and slow, such as light jazz or acoustics. The volume must be low enough so that your diners can hear each other clearly. Also, ensure that there's enough space on the table and in between each table so that couples feel like they have their own private space.

Upscale restaurants usually use simple and minimal printed menus, while a cosy Italian restaurant might have menus written on chalkboards. For printed menus, make sure that they are always clean and stain-free.

Lighting
Lighting is crucial in setting the tone. Remember to match the lighting to the concept. Your restaurant or café can be lit differently at different times of the day. Many restaurants use dimmers to adjust the light intensity.

Food
For meals, the food should be pre-cut and peeled as much as possible, without any runny sauces that could potentially splatter on the couple's clothes. These considerations will allow the couple to focus on having a romantic and enjoyable time. 
Include set menus that provide a special dining experience. Doing this can also help your profit margin for the night as it would be more time- and cost-efficient.

Your restaurant or café could offer complimentary meals or desserts that a couple can share from a common plate.

Gifts
You could take a Polaroid photo with your restaurant's branding on the frame. That will make a nice memento for the couple. Other items that you could present the couple with are flowers or dining vouchers for their next visit.