The game is on, and so is your appetite! Whip up some football-themed finger food and snacks to get your crowd of guests cheering for more. Enjoy a scrumptious night filled with cheers and finger-licking dips featuring Lady's Choice Real Mayonnaise.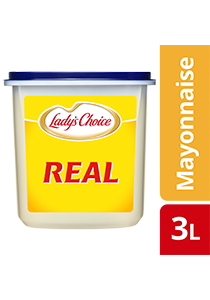 Lady's Choice Real is your preferred mayonnaise that delivers a delicious balanced taste, with the right creamy texture and consistency. Made with real pasteurised eggs, vinegar and soybean oil, it's ideal for various applications such as a base for elaborated cold sauces, salad dressings, sandwich spreads and dips. Lady's Choice Real, the superior choice for your recipes!
Find out more

Get your crowd swooning over some terrific chicken wings with a barbecue mayonnaise dip at the side. Mix a ¼ ratio of barbecue sauce into your Lady's Choice Real Mayonnaise dip with a dash of black pepper and you are good to go! Chop up some carrot sticks and celery for variety as well.

What better way to welcome hungry diners than with your own homemade pizza? Prepare a simple pizza topping by mixing some diced onions, dry tuna, and paprika powder together with Lady's Choice Real Mayonnaise for a kick to the taste buds. Spread it on top of your pizza base, then bake until cooked. Serve this light and crunchy snack to your football-frenzied guests. 

This Mexican favourite will definitely draw your crowd's attention away from the telly for a bit. These easy-to-eat tacos are also quick and simple to make. Stir fry any minced meat of your choice with sliced bell peppers, diced onions and tomatoes. Add an appropriate amount of the mix on crispy shell tacos and top it off with a dollop of Lady's Choice Real Mayonnaise. 

Instead of regular french fries, prepare to tantalise your guests with sweet potato fries. They can be oven-baked or fried in the shape of wedges, shoestrings or regular sliced cuts. Prepare a dip with Lady's Choice Real Mayonnaise mixed with black pepper, spicy paprika powder and chives – it will leave your guests craving for more!

Small bites are great for any party and these mini burgers will satisfy the carnivore in you. Pan fry rounded moulds of your favourite minced meat and put them on little butter-toasted buns. Spread Lady's Choice Real Mayonnaise on both sides of the buns and finish it off by adding lettuce, tomatoes and onions.