Street food is many things: abundant, cheap and exotic. Each country has a wide repertoire that they are known for, like the Singapore's chilli crabs, the Malaysia's chicken satay skewers, or the Hong Kong egg waffles. These classics are often cooked up in stalls or kiosks that line the streets day and night and have become an attraction for both locals and tourists alike.


The challenge now for chefs is to elevate these street food classics into restaurant-quality dishes. Here are some simple steps to create easy appetiser recipes that may just become your restaurant's next bestseller. 
 
1. Give your dish a healthy twist 

Street food has the notorious reputation of being greasy and unhealthy, like the dakgangjeong (deep-fried boneless chicken nuggets coated in a spicy sauce) of Korea or the kwek-kwek (deep-fried orange quail eggs) of the Philippines. Don't worry—a bit of fried food won't hurt, but for the health-conscious diners, you may need an arsenal of healthy recipes. Grilling instead of frying, or even lessening the amount of oil used works like a charm. You can even create vegetarian versions or ketogenic diet recipes for those with special dietary needs. And if your guests can't bear to part with the deep-fried crispy goodness that street food has to offer, you can even add it on top of salads! 
 
2. Use different ingredients 

The same old dishes can be boring for diners, especially since everyone else is doing the same thing. You need to step up your game to stand out from the competition! One way is by adding a creative twist to your dishes with the use of Asian ingredients, like using Yuzu to add acidity instead of lemons, or Sriracha instead of peppers to add heat. Better yet, check out trending ingredients and use them to create bestselling dishes. 
 
3. Add flair to your presentation 

You eat with both your eyes and your mouth. Visual presentation is very important for a dish to stand out, and it can even make it look expensive. Instead of just adding some garnish, try something eye-catching. Hollow out a pineapple and use it as a bowl for your pineapple fried rice. You can even do the same for coconut, especially for soups. Apply sauces and garnishes that add a pop of colour and complement the flavours of your dishes. The objective is to add to the dining experience and create a feast for the senses. You'll be the talk of the town for sure! 

Get Started with these easy appetiser recipes!


Tom Yam Cauliflower Poppers with Aioli Dip

Tom yam, a popular Thai ingredient, isn't just for soup. You can use its sour-spicy flavours as a glaze for deep-fried cauliflower poppers to start the meal with a bang! Remember to serve it up with some creamy aioli to temper its wild flavours.

BBQ Tiger Prawns Skewer with Peanut Sauce

Satay is an Indonesian peanut sauce that can complement all sorts of meat. Create an elevated version of this well-loved street food dish that guests can share by using prawns and plating it up with some metal skewers.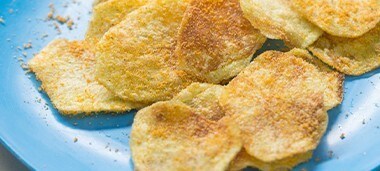 Salted Egg Chips

Singapore is known for all things salted egg. They've created dishes coated in this creamy, salty stuff—from Salted Egg Prawns, to Salted Egg Chicken! Create an appetiser dish with some crunch by cooking it with potato chips! Add a bit of sugar and curry leaves so that the egg flavour doesn't get too rich and overpowering.