Ramadhan bazaars are a popular destination for food lovers, whether they are looking for something easy to eat or something different from the rest. It is common to see people flocking and perspiring in search of delicious food.
From classic delicacies to all-new dishes, there is definitely something for everyone! These are among the most popular foods for breaking fast at any Ramadhan bazaar:
1. BBQ Chicken Wings
There is nothing more dazzling than rows of chicken wings rustling on a hot red grill, with chicken juices dripping on the coals while emitting a pretty seductive scent. The brevity of this food opens up opportunities for chefs to prepare it in a variety of creative ways to attract customers. It's no wonder these wings fly into the baskets of Ramadhan bazaar visitors!
2. Deep-fried foods
Malaysians with fried food are like a song with rhythm — inseparable. Favourite delicacies such as fried bananas, crackers, and shrimp curry are definitely a must at any Ramadhan bazaar. These dishes are an ideal appetizer when breaking fast later. That is why they are so popular with the public.
3. Murtabak
The influence of the Middle East has flooded Malaysia with a variety of delicious delicacies. Among them are murtabak, a pancake usually prepared with minced meat or chicken, cooked with eggs, garlic, and onions. The pancakes are folded and fried on a flat pan until golden brown. The unspeakable fragrance is sure to attract customers who are looking to break fast to your stall.
4. Sate
A common delicacy in any food bazaar, the great satay has a balance between the perfect tender meat grill as well as the melting fat on one stick. When made correctly, the fragrance is sure to make people line up long. In the meantime, don't forget her friends — the delicious peanut sauce, cucumber, and onion.
5. Kebab
For those who do not know what food to buy at the Ramadhan bazaar, kebabs are usually an easy option. As it is baked layer by layer, the meat is tender and not overcooked. It is usually sandwiched in a warm and soft pita bread in addition to vegetables and chili sauce as well as mayonnaise.
However, there are also other ingredients as well as dressings that can whet the appetite of your hungry customers. Some of the ingredients you can use creatively include fruits like mango and pineapple, or a sprinkle of parmesan cheese to elevate the flavour and concentration of the essence.
6. Ayam Percik
Who doesn't know ayam percik? The usual chicken is made many times more special with a percik marinade. What's the secret? The chicken is marinated overnight with coconut milk, turmeric powder, lemongrass, herbs, and spices, before being poked and grilled over hot red charcoal. The preparation process may be a bit tedious, but the results are fantastic. Just look at your customers lined up, eyes wide open, mouths drooling. Then wait for the same ones to return in the next few days to vent their anger for breaking the fast.
Most popular kuehs for Ramadhan Bazaar
While the above dishes are indeed the most popular food items at the Ramadhan Bazaar, we can't miss out on the kuehs.
Kuehs are also a highlight of Ramadhan, as many are looking to break their fast with something bite-sized before they dive into the heavier dishes. Some may already have main dishes prepared at home, and are instead looking for desserts that will complement their main dishes.
Amongst the variety of kuehs available at the Ramadhan Bazaar, these are the most popular:
1. Kueh Tepung Pelita
After a long and tiring day at work or home, what can be better than having kueh tepung pelita that melts in your mouth? This soft kueh is usually found in a rectangular mold that's made from the folds of pandan or banana leaves which further enhance the aroma of the kueh.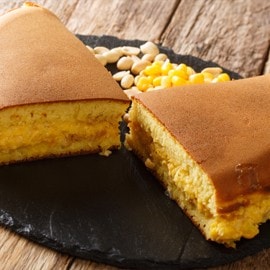 2. Apam Balik
Apam balik goes by many other names such as terang bulan or martabak manis, and the thick, chewy pancake gives your customers both a sweet and slightly savoury taste all at once.
While the traditional ones have peanut fillings, there are increasingly different variations that offer customers delightful tastes and textures to suit their preferences.
3. Lompat Tikam
An all-time favourite that's usually only seen in the months of Ramadhan, Lompat Tikam can't be left out from the list. Made from rice flour and coconut milk, this traditional delicacy is often eaten with palm sugar.
While Kelantan boasts of their own version of Lompat Tikam with red glutinous rice, both versions remain a hot favourite for those looking to break their fast at the Ramadhan bazaar.
4. Putu Bambu
Yet another sweet dessert, Putu Bumbu is also made of rice flour, but coloured green using pandan leaves and steamed in bamboo tubes. After preparation, this delicacy is meant to be enjoyed with desiccated coconut, and gives customers different textures within a mouthful of putu bambu.
5. Cara Berlauk
You can't go home from the Ramadhan bazaar without buying these savoury pancake bites. Consisting of a light batter, the taste is enhanced with scrumptious minced beef curry filling that keeps customers coming back for more.
As a food entrepreneur, we recommend that you ask for feedback from your customers from time to time, so that you know which dishes are the hottest on the market, and which ones need renewal. Remember, when the food is good and the selling price is reasonable, then more and more customers will come!