It's that time of the year again when diets fly out the window as everyone embraces  festive food and beverages with gusto. After undergoing dietary and hydration adjustments during Ramadhan, making healthier choices during the Raya period can be beneficial for the body in its efforts to bounce back to its regular state. So here are 5 ways you can add a dash of healthy yumminess to these favourite Malaysian thirst quenchers.  

Peanut Butter Banana Coffee Smoothie 


What's a better morning pick-me-up than an ice cold mug of coffee, bananas and peanut butter blended into delicious creamy goodness? And it's easy enough to whip up, too! Simply pop some ice, coffee, sliced bananas and a tablespoon (or more!) of peanut butter into a mixer, and blend away. If you prefer more sweetness, add a dash of fragrant gula melaka syrup. For a healthier sweetener, try molasses, honey or maple syrup.

Chai Latte


If coffee is not your customer's cup of tea, how about a chai latte? This exotically spiced beverage is made up of ingredients popular in the Indian subcontinent, such as peppercorn, cardamom pods, cinnamon, cloves, nutmeg, fresh ginger, vanilla bean and black tea. Add warm milk or, if you're feeling adventurous, experiment with soy, almond or even coconut milk for a creamier flavour. Top it off with a sprinkle of cinnamon powder and you're ready to usher in a heart-warming Raya. 

Grass Jelly & Chia Seed Coffee or Tea 


Slurping on grass jelly in your regular kopi ais or teh ais hasn't been more fun! This low-calorie topping can be diced or cut thin slices. Apart from grass jelly, other great additions to your drinks include basil seeds and chia seeds. The health benefits of basil seeds include improving digestive health, skin complexion and regulating blood sugar levels. Chia seeds, on the other hand, are rich in omega-3 fatty acids, antioxidants, fibre, iron and calcium. If you'd like to include chia seed dessert to your menu, just add a tablespoon or more to your chilled coffee or milk tea.

Fruit Mint Tea 


A hot summer day calls for a tall glass of fruity iced tea. To add this to your Raya menu, throw diced mango, apple, blueberry, strawberry and kiwi into iced black tea. Tantalise your diners' tastebuds by adding crushed mint. For a healthier experience, basil seeds or chia seeds do the trick, and honey sweetens while invoking the refreshing taste of summer.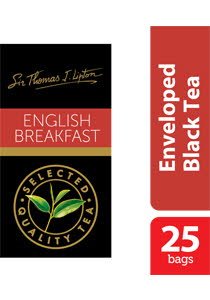 Round up a heavy morning meal with this robust tea. This popular blend of Kenyan, Ceylon and other choice teas serve as the perfect alternative to your morning coffee.

The Sir Thomas Lipton Specialty Tea Collection offers the finest ingredients sealed in envelopes, which maintain quality, freshness and ensure consistency of aroma.

The collection helps to create the perfect tea experience for every moment, every occasion including in room (tea corner), breakfast, restaurant, cafe, bar, lounge, banquet and other functions.

Find out more

Honey Lemongrass & Ginger Tea 

Sweet, light and refreshing, this honey lemongrass and ginger tea is a great selection for festive Raya. With detoxifying and stress reducing properties, it's pretty much a perfect end to any meal. Lemongrass and ginger aid with digestion, and regulate cholesterol and blood pressure. To make it, add cut lemongrass into boiling water, and even a few slices of ginger for that spicy flavour. Throw in some pandan leaves and let it all simmer for 10 to 15 minutes. Add a dash of honey, and serve up hot, chilled or iced.