Diners have been turning towards plant-based food options, given an increased interest in the health and animal welfare benefits of vegetarian and vegan eating patterns. In Singapore, interest in conscious consumption doubled in 2020, with the demand for plant-based chicken and pork rapidly growing1.
Now's the time to think beyond veggie burgers and branch out into plant-based meat — foods that look and taste like meat, but aren't.
With the steady increase in flexitarian diners across Singapore, it's a great idea to incorporate more dishes into your menu that fit their dining preferences. And one of the easiest ways to do so, is by simply turning an existing animal meat dish into one that contains plant-based meat instead.
There are a few ways on how to cook plant-based meals – from simple swops to more optimised transformations – and we'll explore some of these options today.
Why consider the switch to plant-based food options?
Plant-based proteins are tied to a number of positives for people and the planet. Swapping meat for plants may reduce saturated fat and can increase the fibre content of dishes. Science2 shows that vegan and vegetarian diets can reduce the risk of diabetes, certain types of cancer, obesity and heart disease.
By switching to these plant-based meats, you're also skipping the risk of disease that comes with animal-based meats, especially given the less-than-ideal environments that many of these animals live and die in.
Also, plants require fewer environmental resources like water and space, which can offset climate change. Finally, vegetarian proteins are food sources that animal lovers can feel good about eating.
How to make plant-based food for my restaurant?
If you're new to plant-based foods, there's no need to fret. Coming up with plant-based food options for your menu doesn't mean having to come up with only-vegetable dishes from scratch, nor do they mean only having to add salad bowls to your menu.
In fact, there are many ways that you can come up plant-based meals for your restaurants, and some even come very close to tasting like your regular meat dish. Consider the following tips to help you get started on cooking plant-based meals for your diners.
1. Do a one-for-one swop to create a simple plant-based menu
Sometimes, if your ingredients are simple enough, you can just replace the animal meat in your recipe with plant-based meat. It's the fastest, simplest and more convenient transformation you can do to satisfy flexitarian (and even vegetarian) diners – without any hassle to your kitchen.
2. Get creative for your plant-based menu ideas with remoulding
Plant-based meats also give you an opportunity to do more with your popular meat-based recipes. Instead of simply duplicating a beef ball dish, for example, what about moulding plant-based beef into other shapes and making it into a kid-friendly meal?
Alternatively, you could make it look like a brand-new dish that your diners will be excited about trying!
3. Dress up your plant-based food with a coating
While plant-based meats taste very similar to the animal-based meats they are designed to mimic, there are differences due to their composition/ingredients.
If you'd prefer that the plant-based meat version of your popular dish doesn't compete directly with the animal meat version, dressing it up with breadcrumbs could go a long way towards making it look – and taste – like a fresh take on a classic recipe.
4. Dissect the recipe and reformulate it
This option can be the most time consuming, but it can also deliver the best results when done right.
For example, we've analysed the composition of Singapore favourites like green curry and kung pao chicken, then strategised methods of cooking these dishes using plant-based alternatives – based on the flavour composition of the original dishes, as well as the composition of various plant-based meats.
When it comes to flavour, umami is most often associated with a savoury or meaty flavour. While meat traditionally brings umami, plenty of vegetarian foods do as well. Examples are mushrooms, soy sauce, tomatoes, and red wine. Try these when cooking plant-based meals:
Add meaty flavour to hearts of palm "crab cakes" with ginger-soy dipping sauce
Top brioche toast points with red-wine mushroom stew
Analysing the recipe extends to the dish's texture as well. Cooking your vegetables to the right texture will have your customers embracing vegetables as much as they do their favourite meats. Match the consistency of a vegetable with the meat it's replacing.
Consider trying these:
Mix quinoa into mashed beans as a toothsome swap out for hamburger meat in tacos or meatballs
Shred al dente cauliflower to replace the chew of chicken in nachos
This is an undertaking that's well worth the time and effort!
5. Test the limits of your creativity to make plant-based food
Don't equate plant-based meats with the non-edible plastic meals you see outside of some restaurants. Instead, think of it as 'masquerading' food, or one food that impersonates another. Turning your restaurant's popular animal meat dishes into options that non-animal-meat-eaters can enjoy, can be an exciting mix of challenge, fulfilment and opportunity.
The best part is, you can use these transformations as part of your restaurant's marketing efforts – after all, if the most popular dish in your menu is a hearty kung pao chicken dish, you can bet that diners will be intrigued as to whether you'll be able to create an equally great-tasting, plant-based version of the dish! 
Consider the following ingredient swaps which can create great textures and flavours that impersonate:
Textured vegetable protein instead of ground beef
Shiitake mushroom 'bacon'
Tempeh for chicken
Seitan in place of deli meats
6. Unique spices are great for international plant-based dishes
Global dishes are prime for swapping out meat for plant-based meat. These cuisines are often naturally vegetarian. Also, their enhanced spicing can cover differences between meat and vegetables, and therefore mimic original dishes more closely.
Use unripe jackfruit in Indonesian curries
Punch up the protein level of Pad Thai with tofu
Recreate an Italian favourite with aubergine meatballs & zucchini noodles
7. Utilise filling staples as a base
Establish plant-based meals on filling staples like quinoa, lentils, sweet potatoes or winter squash. Top with veggies, fruits and sauces. This will keep consumers happy and full, while preventing meal costs from soaring sky-high.
To get started on your plant-based meat journey, check out the ebook below.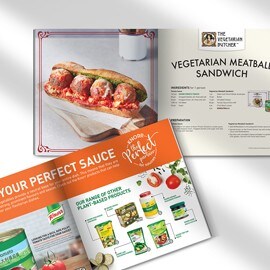 Recipe eBook for Flexitarians, Vegans, & Vegetarian Diners
Meet the needs of the growing number of plant-based food lovers by creating dishes for them. Get inspired with our recipe ebook and adapt those recipes to suit your diners' tastebuds.
Download