To please the palate, you first have to captivate the eyes. This is especially true with the extreme popularity of social media amongst Malaysian diners. Presentation now is as important as ever – excellently plated dishes drive likes and shares, which lead to good publicity for your restaurant. Step up your plating game with the latest plating styles: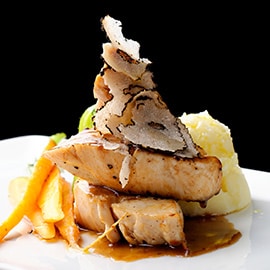 Go vertical!
With the main food in the middle of the plate, you can create beautiful "skyscrapers", surrounded by serene emptiness, or decorated with drizzles of sauces or spices (like a signature on a piece of artwork). All you need is imagination, skills, and practice to make your guests feel sky-high.
Seek an alternative plate
Enhance your customers' dining experience by serving them creatively. For instance, sauces can be served in test tubes or syringes. For bolder ideas, you can present your main course on pot lids or wide glass jars.
Edible garnishes
Make beverages more interesting with edible garnishes! Determine which types of flavours or textures work best with your drinks and let your creativity do the rest. For example, why not serve your latte with a chocolate spoon? Or your iced tea with sugared flowers? Have fun with it, and watch your diners have fun with your drinks too.