Chefs and diners love the versatility and taste of sriracha, but 2017 will see a new wave of Asian flavours alongside the ubiquitous spicy-tart sauce.
Around five years ago, sriracha hot sauce exploded onto the US market, and global domination quickly followed.1 Last April, market research firm IBISWorld identified hot sauce production as the 8th fastest-growing industry in the world.

Strangely, the one area where it made relatively small waves was in Asia, where there are plenty of other chilli sauces. Some in Asia even wondered what the fuss over sriracha was all about.

Now, though, the sriracha wave is ebbing, and chefs and foodies alike are looking to Asia for the next hot sauce. 

Sambal
Sambal, the Indonesian and Malaysian's condiment of fresh red chillies, shrimp paste, garlic, ginger, scallions, fish sauce, vinegar and lime juice, has been identified as one to watch and use.
It's versatile and easy to use. Just look at how the Fullerton Hotel in Singapore slips it into their colourful sambal chilli marinated chicken with turmeric glutinous rice dumpling, or how Hong Kong's City Garden Hotel stir fries it with clams. At Kempinksi in Jakarta, it even accompanies porridge, noodles, fried rice, roast lamb, beef liver and, of course, laksa.

Gojuchang
Meanwhile, the Korean wave is not to be ignored too. South Korea's latest offering is gojuchang sauce, made from red chilli, glutinous rice, fermented soybeans and salt.
Gojuchang's flavour profile is in line with what international food and restaurant consultant Baum + Whiteman have identified as this year's flavour trends. Consumers are looking for deep contrasts to richness, hence the appeal of the fermented tartness of gojuchang.2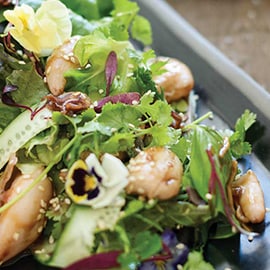 Yuzu
It is not just heat that is leaving diners' taste buds tingling. Yuzu, a zesty yellow citrus fruit like a cross between a lemon and a tangerine, is slated to make its mark in kitchens around the world. The fruit, which originates in East Asia and has a place in Chinese, Japanese and Korean cuisines, fits the bill in the world's search for exotic flavours.
Yuzu's tart flavour lends itself well to salad dressings such as vinaigrette, and refreshing desserts such as sorbet. Chefs also add a few drops of yuzu juice to cut rich sauces such as hollandaise.

Coconut
Coconut is another natural flavour that lends itself well to cooking. Coconut cream adds richness to sauces, nata de coco gives fibre and body while toasted coconut adds lightness and a fashionable scorched flavour to desserts. Coconut water can be used as a base for soups, lending a delicate sweetness to chicken and seafood that in turn infuse the stock with flavour.
It looks great in photos too, which is perfect for millennial diners who love to snap and share food photos. At Cafe Organic in Bali, smoothie bowls topped with fruit, acai, chia seeds and goji berries are served in coconut husks that serve as an edible, Instagrammable bowl.
Salted egg yolk
Another trendy flavour is salted egg yolk. Custardy, salted egg yolk filling first oozed its way into dim sum in steamed white buns, and is now spreading. When salted egg yolk croissants were first launched in Singapore, they were sold out at bakery Flavour Flings within half an hour.
Salted egg yolk sauce has also been used to flavour all kinds of stir-fried dishes, such as crab, prawn, and even bitter gourd. It can be tossed in pasta, drizzled on onion rings, and makes a luscious dipping sauce for fries.
Sriracha may have had its day in the sun, but in the creative hands of chefs and the dishes they can come up with, the next generation of flavours looks to be just as versatile as their predecessor.