Smoked Chicken Roll with Cassava Shoots In Turmeric Coconut Gravy
From Raja Kuah Knorr 2016's runner up winner, Chef Mohd Hilmi Bin Mohd Alias Ahmad
Main Course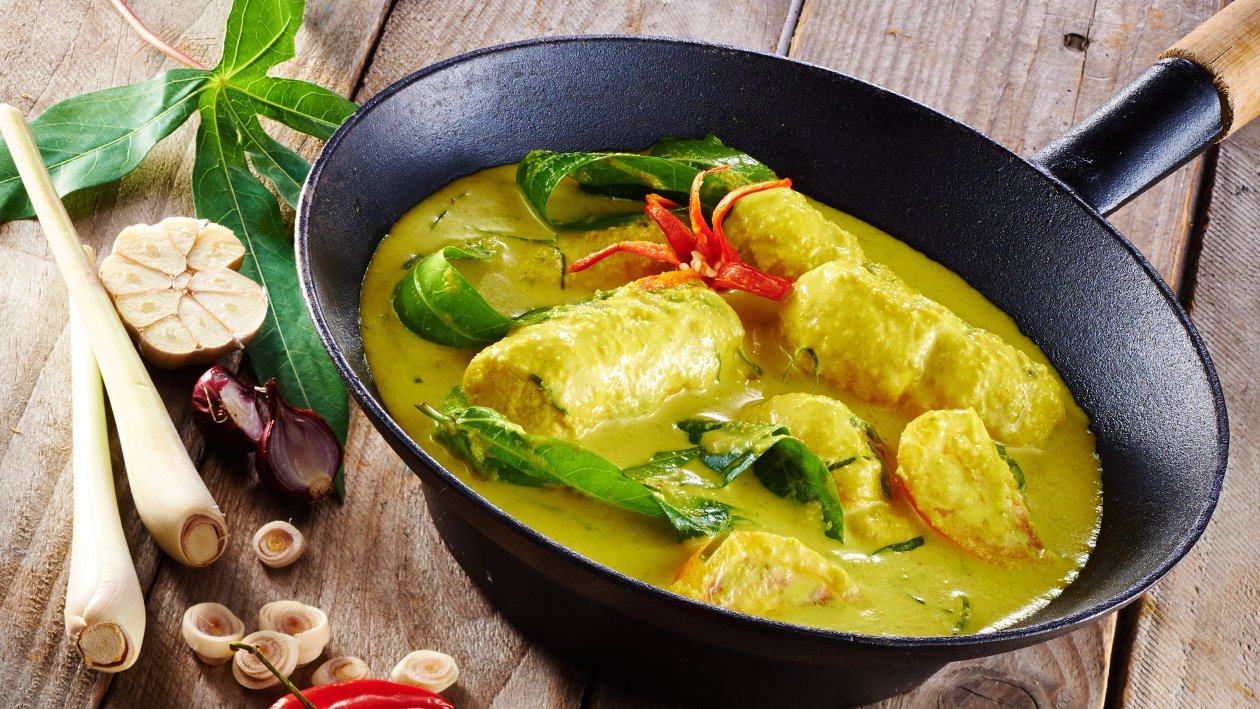 Ingredients
Smoked Chicken Roll with Cassava Shoots In Turmeric Coconut Gravy
Calculate Dish Cost
Total Cost of Ingredients
RM0.0
Spice Paste
Bird's Eye Chili
/pc
15.0 pc
0%
Fresh Turmeric(1 inch)
/pc
1.0 pc
0%
Garlic Cloves
/pc
2.0 pc
0%
Dried Anchovies
/g
50.0 g
0%
Protein
Chicken Breasts(rolled with seaweed & smoked)
/pc
2.0 pc
0%
Gravy
Lemongrass Stalk
/pc
2.0 pc
0%
Veg, Tomatoes
/pc
2.0 pc
0%
Turmeric Leaves
/pc
1.0 pc
0%
Tamarind Peel
/pc
3.0 pc
0%
Thick Coconut Milk
/cup
1.0 cup
0%
Thin Coconut Milk
/cup
2.0 cup
0%
Cassava Shoots
/g
0.0 g
0%
Knorr Chicken Stock 500g
/g
0.0 g
0%

Total Cost of Ingredients
Cost per Serving
Food Cost Margin
Spice Paste
Fresh Turmeric(1 inch)

1.0 pc
Protein
Chicken Breasts(rolled with seaweed & smoked)

2.0 pc
Gravy
Thick Coconut Milk

1.0 cup

Thin Coconut Milk

2.0 cup
Preparation
Spice Paste

Grind or pound all the spices under Spice Paste.
Heat up some oil and saute all ground ingredients with lemongrass. Saute until fragrant.

Protein

Flatten the chicken breasts, then season with Knorr Chicken Stock and a pinch of salt.
Put a piece of seaweed in the middle of the chicken, roll and seal tightly.
Smoke chicken until cooked.

Gravy

Add in cassava shoots that have been blanched and knotted together to the sautéed spice paste. Cook till soft.
Add in thin coconut milk, cook on slow fire. Stir continuously to prevent the coconut milk from cuddling. Bring to a gentle simmer.
Add in thick coconut milk & continue stirring.
Add in smoked chicken rolls and allow flavours to develop fully into the meat.
Season with Knorr Chicken Stock and salt. Lastly add in tomatoes and turmeric leaf.

Assembly

Ready to be served with some cooked white rice.