Sanitation  - Nominate a champion for each shift to coach and monitor that the team is taking extra precautions with food handling
Employee safety - Regularly check in with staff, make sure they don't feel they need to come to work if they are not feeling well and reassure them that it is okay to stay home
Reach out to guests -  Tell them you are open and taking precautions to ensure their safety
More inviting environment – Eliminate touch screens, create more space by eliminating a few tables
Consider Delivery -  If not in your current business model, add it. Encourage waitstaff to participate to make up for lost tips. Stock up on take out containers.
Streamline your menu – Stick to your top dishes, postpone LTOS and the daily special, it will allow for inevitable staff reductions and for less inventory
Remove self-serve areas – No condiment stations, buffets or salad bars; if you need them, staff them to be served or move to PCs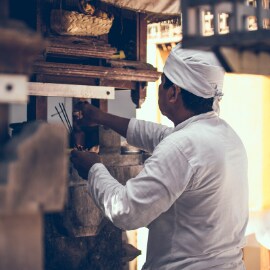 Refresher needed? 
We have a bunch of short videos here on the essentials of Food Safety. Watch them to be reminded or share them with your staff to upskill everyone working in your business. 

Watch the videos