Please select your city, followed by your trade partner
Your preferred trade partner
Additional trade partners
Your preferred trade partner
Additional trade partners
Please select a trade partner
Unilever Product Purchase Terms & Conditions
Read More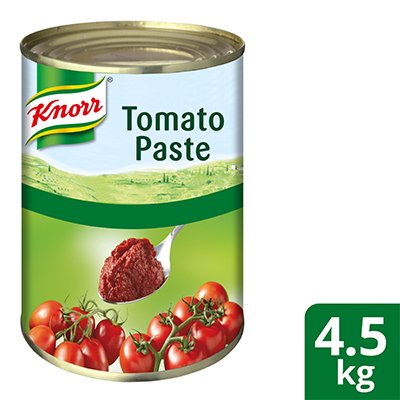 Knorr Tomato Paste 4.5kg
Packaging
Quantity
Product added to cart: Knorr Tomato Paste 4.5kg
*Recommended Retail Price: this price is just an indication of a possible resale price of your selected trade partner, included for indicative reference purposes only. Your actual purchase price is subject to the agreement between you and your selected trade partner, and could thus be lower or higher.
Product added to cart: Knorr Tomato Paste 4.5kg
All product information
Nutrition and allergens
Halal
Ingredients
Sugar, Tomato Paste, Modified Starch, Salt, acetic acid, Spices. Contains Permitted Preservative (E211) and Colouring.
Allergen Information
All food additives used is from plant and synthetics origins. May contain traces of cereals containing gluten, molluscs, fish, sesame and soya.
Key product information
Packaging
Per Carton (3 x 4.5 kg)
Container
Per Piece (Can)
Usage information
Storage
Keep in a cool and dry place.