Sir Thomas Lipton Earl Grey Envelope Teabags 1g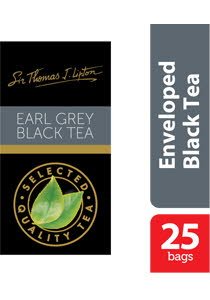 Total Price
RM11.25
Recommended Retail Price ex 6% GST
UFS Online Rewards Points
11 Points
Article Code
62052262
9310494035640
19310494035647
Container
Per Piece (Box)
Preparation
1. Place one tea bag for each person in a cup or pot.
2. Pour in fresh boiling water. Allow to infuse for 2-3 minutes.
3. Add in milk, sugar or honey as desired.

Packaging
Per Carton (6 x 25 x 1 g)
Storage
Keep in a cool and dry place

Benefits
Sealed in high-quality envelopes for fresh taste, aroma and moisture protection this range of specialty tea delivers a superior tea experience.
Allergen Information
May contain traces of soy derivative.
Ingredients
Blact Tea (95%), Nature Identical Bergamot flavour.
Description
SIR THOMAS LIPTON Earl Grey is a black tea with subtle Bergamot notes.
The Sir Thomas Lipton Specialty Tea Collection offers the finest ingredients sealed in envelopes, which maintain quality, freshness and ensure consistency of aroma.
The collection helps to create the perfect tea experience for every moment, every occasion including in room (tea corner), breakfast, restaurant, cafe, bar, lounge, banquet and other functions.



Nutrition Information

Portion size = 200ml

| Typical values | Per 100 g as sold | Per 100 ml as sold | Per portion |
| --- | --- | --- | --- |
| Energy kJ | 10.00 kJ | - kJ | 10.00 kJ |
| Energy kcal | 0.00 kcal | - kcal | 0.00 kcal |
| Protein | 0.10 g | - g | 0.10 g |
| Carbohydrate, by difference | 0.10 g | - g | 0.10 g |
| Sugars, total | 0.10 g | - g | 0.10 g |
| Total lipid (Fat) | 0.10 g | - g | 0.10 g |
| Fatty acids, total monounsaturated | - g | - g | 0.00 g |
| Fatty acids, total polyunsaturated | - g | - g | 0.00 g |
| Fatty acids, total saturated | 0.10 g | - g | 0.10 g |
| Fatty acids, total trans | - g | - g | 0.00 g |
| Fibre, total dietary | - g | - g | 0.00 g |
| Sodium, Na | 5.00 mg | - mg | 5.00 mg |

*% of Reference Intake of an average adult 8400kj/2000kcal