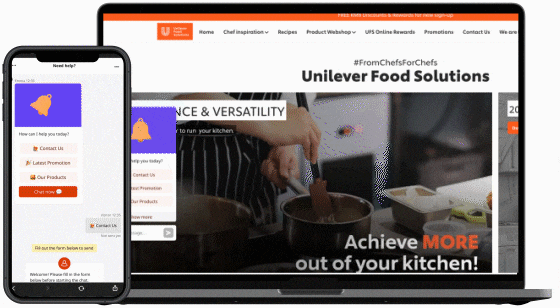 We know it is important for you - if you have a question, we want to answer it as quickly as possible. For that we have Emma (our chatbot) who can answer your questions 24h/7d - all day all time. 
Even if Emma can't solve your issue, don't worry! You can get support from our Customer Care team through the same function.

Follow these steps to use this new feature:
1. Click on the chat icon on any page of UFS.com

While browsing any UFS.com pages, a chatbot icon will appear at the bottom left. This is Emma, ​​our chatbot assistance. Her job is to answer simple questions for you.
2. Use the buttons to ask your questions
The easiest way to get an answer to your question is to use the buttons. Simple questions about product information, promotions, where to buy etc. can be asked here and Emma will give you an appropriate answer.
If you still need to ask something to one of our Customer Care team, please leave a message in the chatbot and we will contact you asap. You can also visit our FAQ page to find your answers.
3. Ask your question directly to Emma
If you don't want to use the buttons, you can directly type your question to Emma. If she doesn't know the answer, she will immediately connect you to a Customer Care representative (during office hours) or assist you to leave a message so they can contact you.