Making exceptionally refreshing drinks is easily achievable with a few tips and ideas. Here are a few that you can use to impress your diners.

Seasonal fruits
Drinks made with seasonal fruits like mangosteen, rambutan or cherries will elevate your drink's "exclusive" feel as they are not an everyday feature. Plus, fruits add a natural sweetness, reducing the need for added sugar.
Fruits and flowers
Combine your basic black Lipton tea with mint, lavender or even hibiscus flowers for a refreshing new twist to your regular iced tea – your options are endless! Your diners might be more inclined to try them as the drinks are just the right amount of unique to pique their interest, but are familiar enough to order.
Freeze it!
Make ice cubes more interesting by freezing them with fresh fruits, sprigs of herbs or even flower petals. Adding them to your regular drink can instantly brighten up your glass. You can even freeze leftover smoothies into ice lollipops, which can be great as a free after-meal treat for your frequent diners.
Chilled tea or coffee
A pot of tea cooled in the fridge with a few ice cubes will be naturally sweeter than hot, and the same goes for cold-brew coffee. Both are incredibly cooling and easy to make in batches. If you find need to sweeten the drink, try using honey or fruit instead of sugar. 
Refreshingly tangy
Foods with a sour taste make the digestive system produce digestive acids, which in turn increases appetite. To whet your diners' hunger with a burst of refreshing tang, serve a sparkling cucumber limeade, which is a delightful mix of Knorr Lime Powder, mint and cucumbers. It is also perfect for blazingly hot days!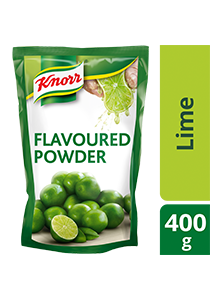 Made for Chefs by Chefs. A versatile seasoning with the refreshing taste of lime, perfect for many food or beverage applications.
Find out more