Baked Chicken Thigh with Orange Demi-glace
With a delightful combination of herbs and tangy flavors, this recipe will surely have your guests asking, "What's your secret sauce?"
Main Course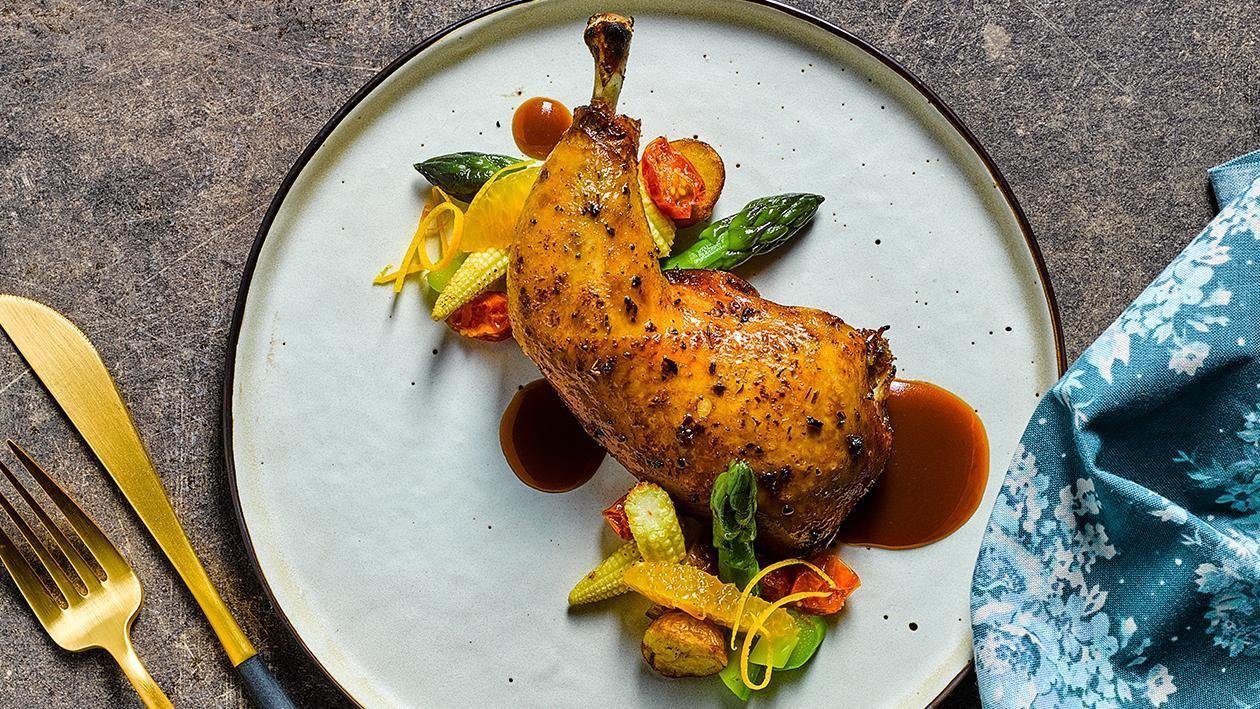 Ingredients
Baked Chicken Thigh with Orange Demi-glace
Calculate Dish Cost
Total Cost of Ingredients
RM0.0
Baked Chicken Thigh
Chicken Thigh
/kg
1.5 kg
0%
Knorr Italian Herb Paste 1.5kg
/g
150.0 g
0%
Orange Demi-Glace
Knorr Demi Glace Brown Sauce Mix 1KG
/g
80.0 g
0%
Filtered Water
/ml
800.0 ml
0%
Orange Compound
/ml
200.0 ml
0%
Before Serving
Veg, Baby corn
/g
200.0 g
0%
Asparagus, chopped & blanched
/g
200.0 g
0%
Cherry Tomatoes
/g
200.0 g
0%
Potato, peeled and cut, medium cube, deep fried
/g
300.0 g
0%
Total Cost of Ingredients
Cost per Serving
Food Cost Margin
Baked Chicken Thigh
Orange Demi-Glace
Before Serving
Asparagus, chopped & blanched

200.0 g

Potato, peeled and cut, medium cube, deep fried

300.0 g
Preparation
Baked Chicken Thigh

Marinate chicken thigh with Italian Herb Paste and corn oil.
Chill for 4hrs

.

Orange Demi-Glace

Heat up water in stock pot.
Slowly whisk in Demi Glace Brown Sauce Mix.
Bring to boil and simmer for 5mins.
Add in orange compound.
Set aside for later use.

Before Serving

Preheat oven at 160°C.
Bake chicken thigh for 30mins.
Transfer baked chicken thigh onto plate.
Serve with new potato, baby corn, asparagus, orange segments and Orange demi-glace.