Beef Adobo
A Classic beef stew inspired from a classic Filipino Dish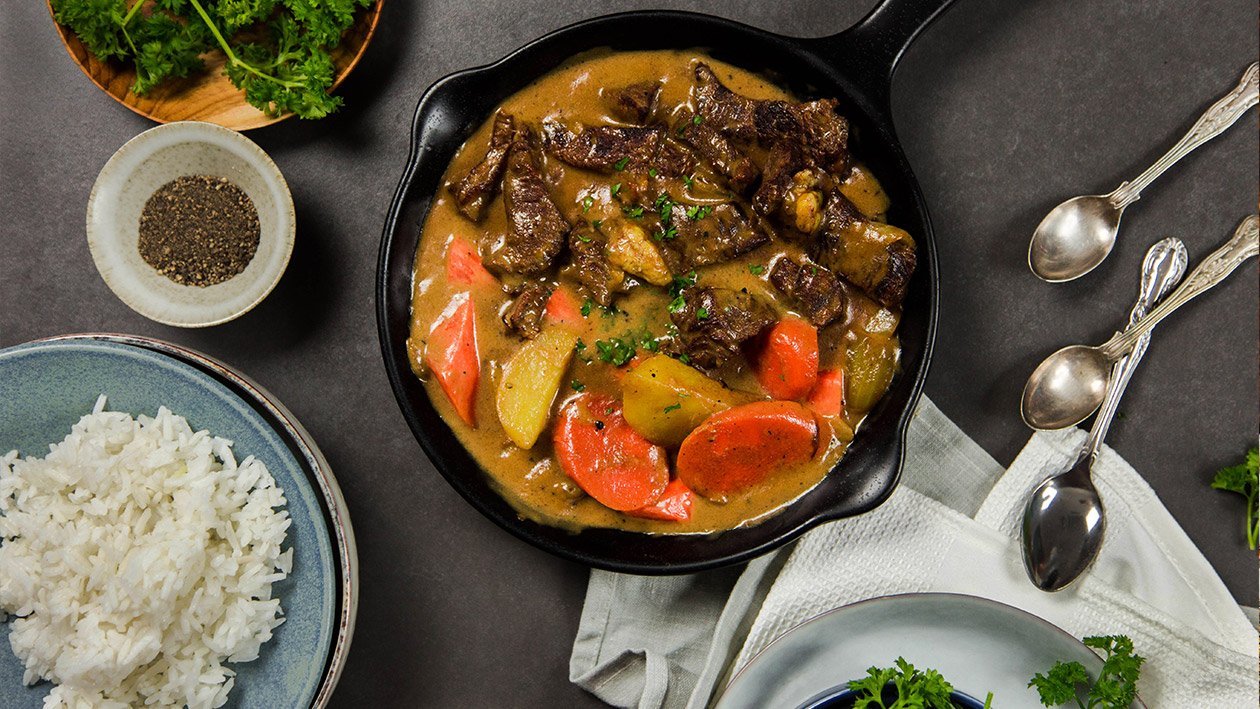 Ingredients
Beef Adobo
Calculate Dish Cost
Total Cost of Ingredients
RM1800.77
Preparation of Demi Glace Sauce
Filtered Water
/g
500.0 g
0%
Knorr Demi Glace Brown Sauce Mix 1KG
/g
70.0 g
0%
Preparation of Beef
Crushed Peppercorn
/g
10.0 g
0%
Beef Blades (chunks)
/g
1200.0 g
0%
Preparation of Beef Adobo
Herbs, Bay leaves
/g
1.0 g
0%
Coconut Milk
/g
150.0 g
0%
Filtered Water
/ml
1000.0 ml
0%
Total Cost of Ingredients
Cost per Serving
Food Cost Margin
Preparation of Demi Glace Sauce
Preparation of Beef
Crushed Peppercorn

10.0 g

Beef Blades (chunks)

1200.0 g
Preparation of Beef Adobo
Preparation
Preparation of Demi Glace Sauce

Dissolve Knorr Demi Glace in Filtered Water and set Aside.

Preparation of Beef

Mariate Beef with Soy Sauce, Crushed Peppercorn, Vinegar, Salt.
In a heated pan, add Corn Oil and sear the Marinated Beef till brown. Once done, set aside.

Preparation of Beef Adobo

In a heated pot, add Corn Oil, Onion, Carrot, Potato and Bay Leaves.
Add marinated beef and Filtered Water.
Add Demi Glace Sauce.
Add Coconut Milk and Knorr Chicken Stock.
Simmer to thicken.