Read More
Cornflakes Crush Chicken Chop served with Curry Buttermilk Sauce and Mashed Potato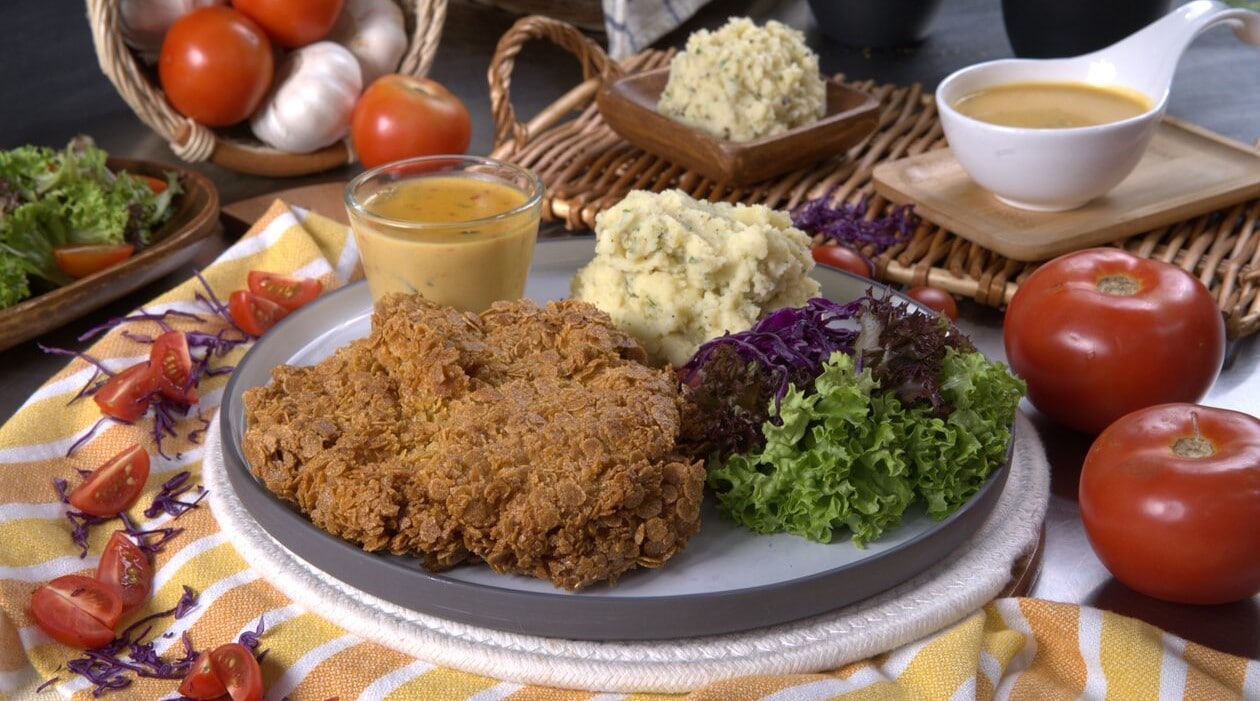 Ingredients
Cornflakes Crush Chicken Chop served with Curry Buttermilk Sauce and Mashed Potato
Calculate Dish Cost
Total Cost of Ingredients
RM0.45
Cornflakes Crush Chicken Chop
Wheat Flour
/g
100.0 g
0%
Knorr Chicken Stock 500g
/tsp
5.0 tsp
0%
Filtered Water
/ml
200.0 ml
0%
Cornflakes Crush
/g
100.0 g
0%
Curry Buttermilk Sauce
Red Onion, minced
/g
25.0 g
0%
Red Bird's Eye Chilli, smashed
/g
15.0 g
0%
Meat Curry Powder
/g
5.0 g
0%
Filtered Water
/g
250.0 g
0%
Knorr White Sauce Mix 850g
/g
50.0 g
0%
Evaporated Milk
/g
250.0 g
0%
Mashed Potato
Filtered Water
/g
400.0 g
0%
Full Cream Milk
/g
200.0 g
0%
French fries (defrost)
/g
100.0 g
0%
Parsley, chopped
/g
5.0 g
0%
Black Pepper, crushed
/g
1.0 g
0%
Total Cost of Ingredients
Cost per Serving
Food Cost Margin
Cornflakes Crush Chicken Chop
Curry Buttermilk Sauce
Red Bird's Eye Chilli, smashed

15.0 g
Mashed Potato
French fries (defrost)

100.0 g

Black Pepper, crushed

1.0 g
---
Cornflakes Crush Chicken Chop

20 minutes

Prepare batter by mixing wheat flour, rice flour and Knorr Chicken Stock with water. Batter chicken chop with it.
Then coat the battered chicken chop with crushed cornflakes. Deepfry till golden crispy texture.


Curry Buttermilk Sauce

Heat up oil, then saute red onion, curry leaf, bird eye chilli and curry powder. Next, add water, followed by Knorr White Sauce and evaporated milk.

Season the sauce mix with Knorr Chicken Stock and sugar. Bring to boil to thicken the sauce.


Mashed Potato

Bring water to boil, then add in Knorr Potato Flakes with salt and full cream milk.
Add defrosted french fries. Mashed all ingredients to mix them well.
Season with parsley and pepper.