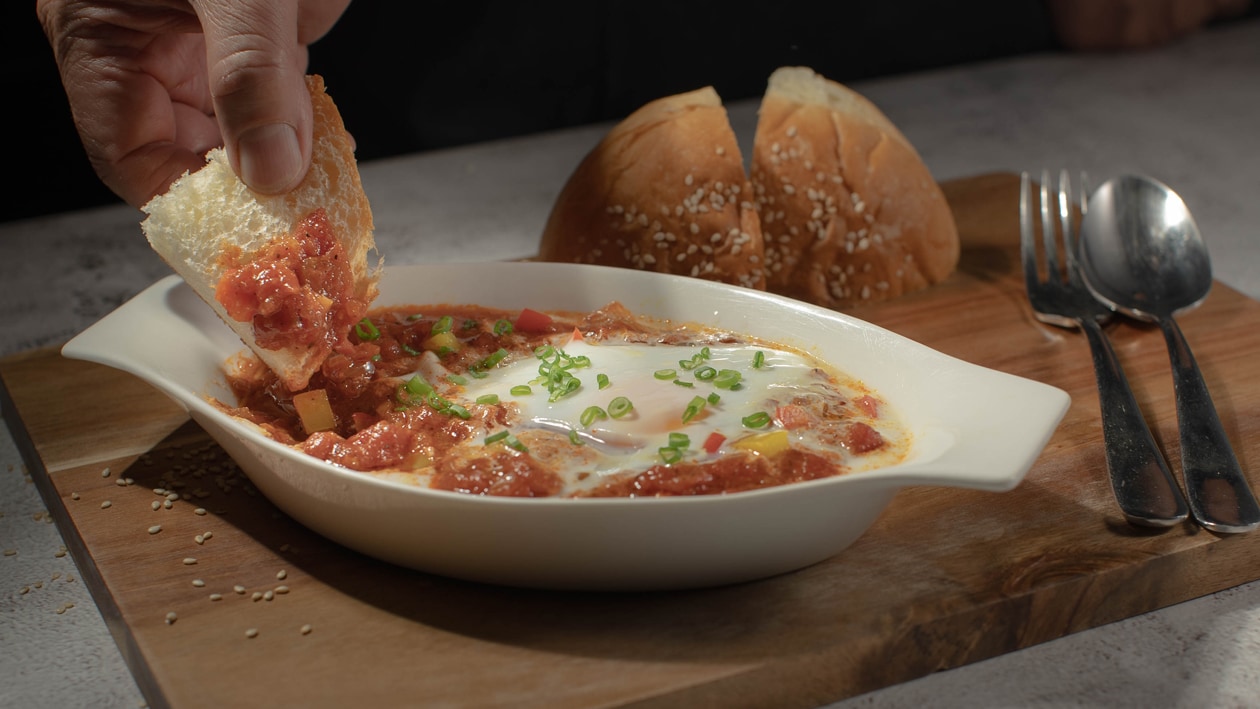 Ingredients
Egg Shaksuka
Calculate Dish Cost
Total Cost of Ingredients
RM0.44
Base Sauce
Yellow Capsicum, cubed
/g
150.0 g
0%
Red Capsicum, cubed
/g
150.0 g
0%
Garlic, chopped
/g
30.0 g
0%
Onion, chopped
/g
200.0 g
0%
Knorr Pronto Italian Tomato Sauce 2KG
/kg
1.0 kg
0%
Seasoning
Crushed Black Pepper, To Taste
/
0.0
0%
Cumin Powder
/g
10.0 g
0%
Cayenne Pepper
/g
1.0 g
0%
Garnish
Fresh Coriander Leaves
/g
20.0 g
0%
Protein/Sides
Total Cost of Ingredients
Cost per Serving
Food Cost Margin
Base Sauce
Yellow Capsicum, cubed

150.0 g

Red Capsicum, cubed

150.0 g
Seasoning
Crushed Black Pepper, To Taste
Garnish
Fresh Coriander Leaves

20.0 g
Protein/Sides
---
Base Sauce

Saute capsicums with garlic and onion till fragrant.

Add in Knorr Tomato Pronto.


Seasoning

Add in seasoning and bring to boil.

Set aside.


Garnish

Protein/Sides

Final Plating

Place mixture into preferred bakeware.

Fold in spinach.
Add in egg.

Bake at 180c for 10-12 minutes.

Garnish with fresh coriander. Serve.