Eggplant & Pumpkin Parmigiana with Gochujang
Unlike the usual, this parmigiana uses roasted pumpkin and eggplant, mixed with a flavourful gochujang red sauce. This vegetarian recipe can indeed be tasty and healthy—something your guests will remember you for.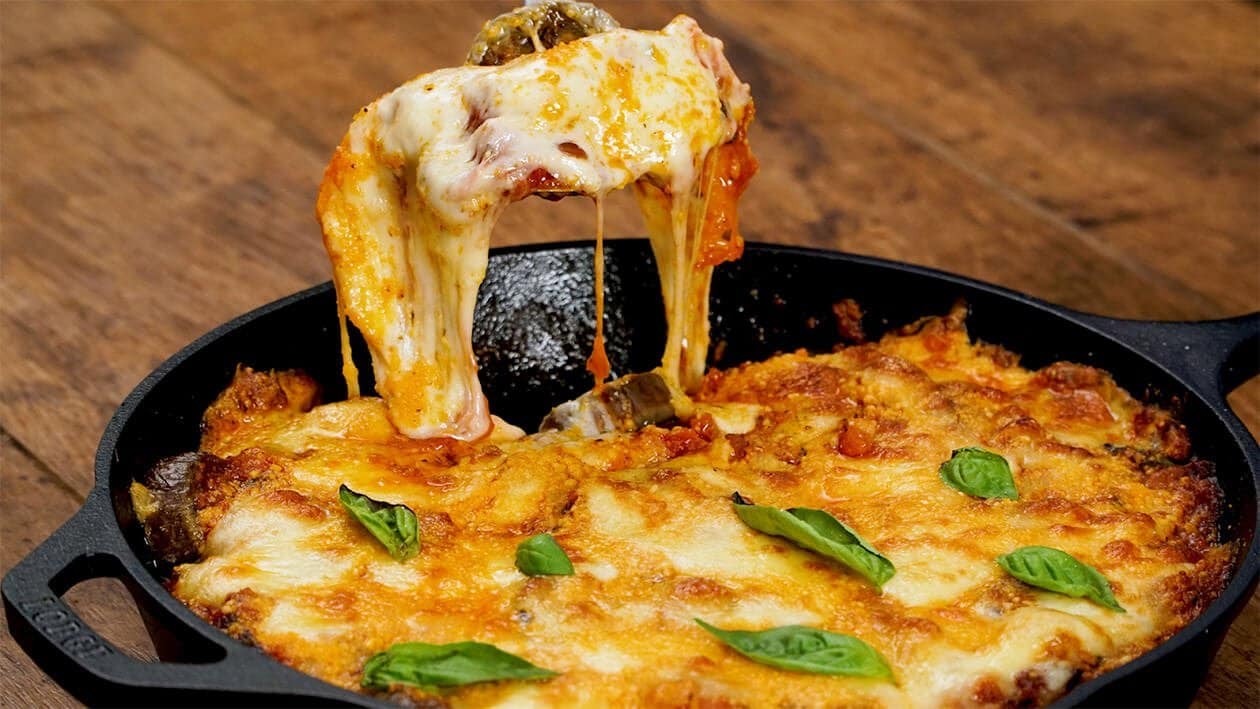 Ingredients
Roasted Eggplant & Pumpkin
Eggplant, sliced ½ inch thick

1.0 pc

Pumpkin, sliced ½ inch thick

500.0 g

Salt and Pepper, to taste

5.0 g
Tomato Sauce (prepared)
Parmigiana Sauce
Yellow Onion, minced

50.0 g

Basil Leaf, chopped

3.0 g
Serving
Preparation
Roasted Eggplant & Pumpkin

On a baking tray, lay out eggplant and pumpkin slices.
Drizzle olive oil over them, and season with salt and pepper.
Roast them in the preheated oven for 3 minutes. Remove and set aside.

Tomato Sauce (prepared)

Mix water and Knorr Napoli Tomato Sauce together to prepare 720g of tomato sauce.

Parmigiana Sauce

Set your heat to medium. In a pot, add in olive oil and put in onions.
Season with salt to let the onions sweat.
Add in garlic.
When the onions have caramelised and are translucent in colour, and the garlic has become fragrant, pour in the prepared tomato sauce and gochujang. Let it simmer until bubbling.
Add in basil, oregano and brown sugar, and stir well.
Season with pepper and Knorr Aromat Powder, stir well, and let it cool.

Serving

Preheat the oven to 350°F, and grease a cast-iron skillet with olive oil.
Layer the roasted eggplant & pumpkin slices flat in the cast-iron skillet.
Pour over parmigiana sauce in between and over each layer.
Sprinkle mozzarella cheese and parmesan cheese on top evenly.
Bake in the oven until the cheese melts and starts bubbling.
Serve on the cast-iron skillet and garnish with basil leaf on top.