Japanese Beef Curry Pasta
This hugely popular Japanese curry will pair perfectly with your pasta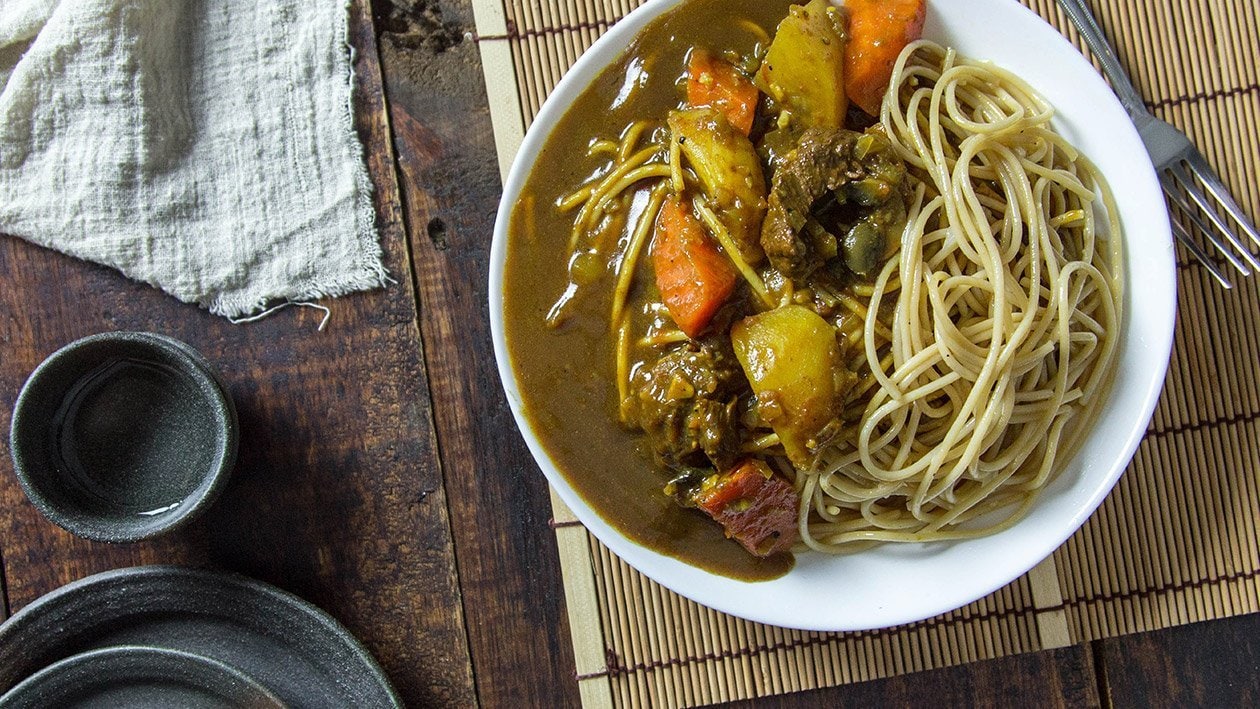 Ingredients
Japanese Beef Curry Pasta
Calculate Dish Cost
Total Cost of Ingredients
RM240.0
Preparation of Demi Glace Sauce
Knorr Demi Glace Brown Sauce Mix 1KG
/g
100.0 g
0%
Filtered Water
/g
1400.0 g
0%
Preparation of Curry
Crushed Peppercorn
/g
3.0 g
0%
Knorr Pronto Italian Tomato Sauce 2KG
/g
100.0 g
0%
Herbs, Bay leaves
/pc
2.0 pc
0%
English Curry Powder
/g
30.0 g
0%
Ginger, blended
/g
20.0 g
0%
Garlic, chopped
/g
20.0 g
0%
Yellow Onion, chopped
/g
350.0 g
0%
Worcestershire sauce
/g
30.0 g
0%
Unsalted Butter
/g
120.0 g
0%
Tenderloin (cubes)
/g
1200.0 g
0%
Total Cost of Ingredients
Cost per Serving
Food Cost Margin
Preparation of Demi Glace Sauce
Preparation of Curry
English Curry Powder

30.0 g

Yellow Onion, chopped

350.0 g

Worcestershire sauce

30.0 g

Tenderloin (cubes)

1200.0 g
Preparation
Preparation of Demi Glace Sauce

Dissolve Knorr Demi Glace in Filtered Water and set Aside.

Preparation of Beef

Marinate Beef with Worcestershire Sauce and set aside.

Preparation of Curry

In a heated pot, melt Butter and sear marinated Beef with Onion, Garlic, Ginger, Bay Leaf, Carrot, Potato till soft.
Add in Worcestershire Sauce, Knorr Pronto Italian Tomato and Curry Powder.
Add in Demi Glace Sauce. Bring to boil to tender the beef and thicken the gravy.
Add Crushed peppercorn and Knorr Chicken Stock.