Read More
Masak Lemak Salted Egg Spaghetti with Smokey Beef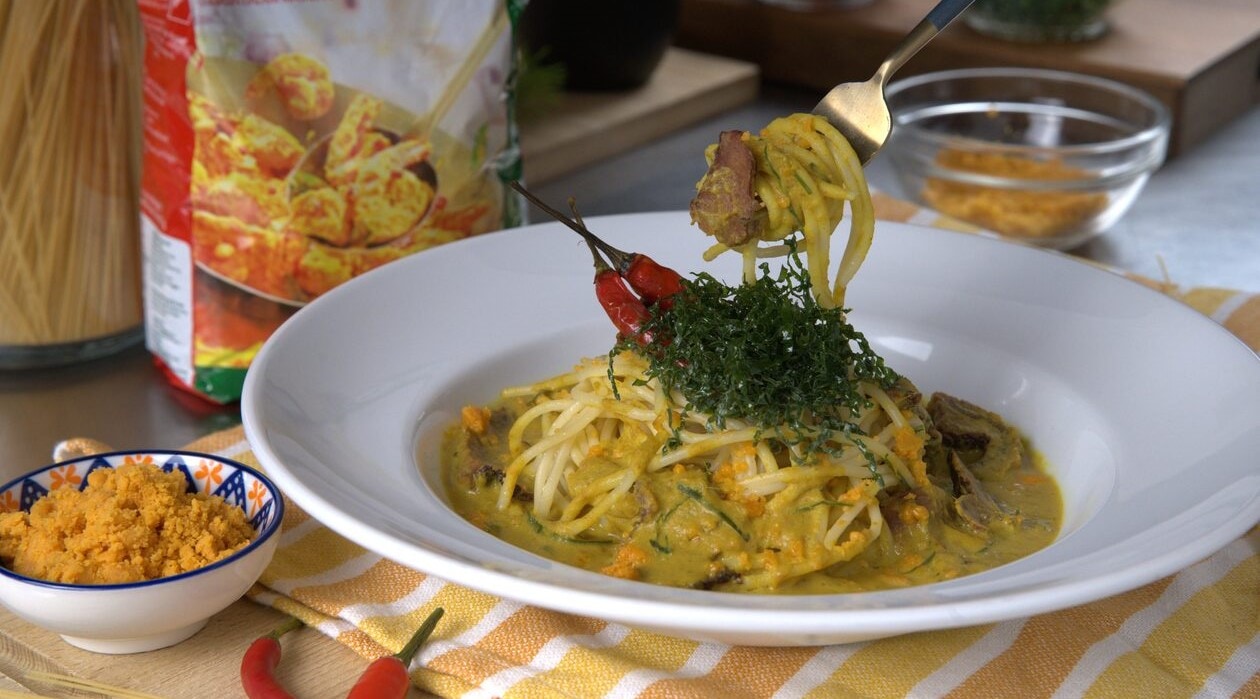 Ingredients
Masak Lemak Salted Egg Spaghetti with Smokey Beef
Calculate Dish Cost
Total Cost of Ingredients
RM362.94
Masak Lemak Salted Egg Sauce
Lemongrass(minced)
/g
80.0 g
0%
Bird's Eye Chili(minced)
/g
100.0 g
0%
Fresh Turmeric(1 inch)(minced)
/g
30.0 g
0%
Filtered Water
/ml
250.0 ml
0%
Knorr Golden Salted Egg Powder 800G
/g
80.0 g
0%
Coconut Milk
/g
150.0 g
0%
Daging Salai(precooked)
/g
300.0 g
0%
Spaghetti
Spaghettial dante
/ml
200.0 ml
0%
Salted Egg Crumble
Knorr Golden Salted Egg Powder 800G
/g
100.0 g
0%
Total Cost of Ingredients
Cost per Serving
Food Cost Margin
Masak Lemak Salted Egg Sauce
Lemongrass(minced)

80.0 g

Bird's Eye Chili(minced)

100.0 g

Fresh Turmeric(1 inch)(minced)

30.0 g

Daging Salai(precooked)

300.0 g
Spaghetti
Spaghettial dante

200.0 ml
Salted Egg Crumble
---
Masak Lemak Salted Egg Sauce

Heat up water in pan, then add in all minced ingredients along with Knorr Golden Salted Salted Egg Powder. Bring sauce to boil.

Add coconut milk, daging salai and then season with Knorr Chicken Stock.

Continue to boil the sauce till it thickens.


Spaghetti

Blanch accordingly to al dente. Toss with the prepared sauce.

Salted Egg Crumble

Mix all ingredients, then bake mixture in oven for 3 minutes at 170 celcius.

Rest to cool down temperature. Then crumble it. Use it as sprinkle on top of pasta before serving.