Read More
Nachos served with Tomato Salsa, Chili Con Carne & Cheese Dips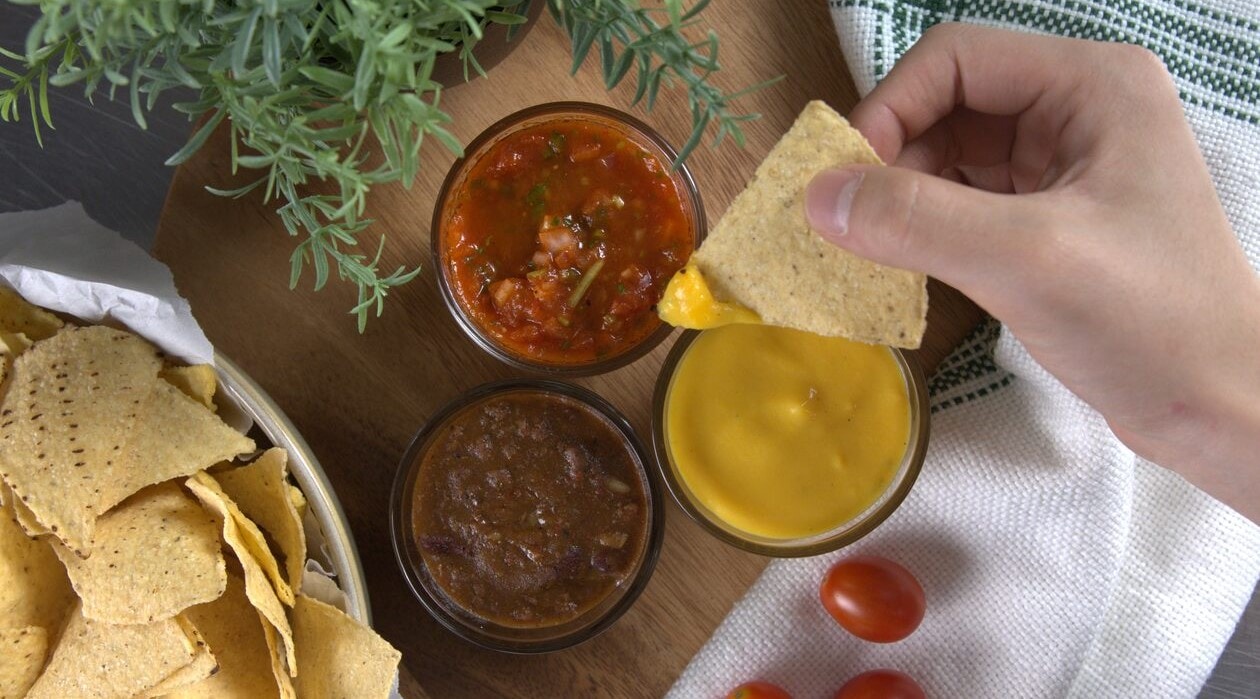 Ingredients
Nachos served with Tomato Salsa, Chili Con Carne & Cheese Dips
Calculate Dish Cost
Total Cost of Ingredients
RM22.8
Tomato Salsa Dips
Red Onion, chopped
/g
50.0 g
0%
Jalapeno pepper(deseeded- chop)
/g
30.0 g
0%
Cilantro, chopped
/g
20.0 g
0%
KNORR Pronto Italian Tomato Sauce
/g
200.0 g
0%
KNORR® Lime Flavoured Powder
/g
3.0 g
0%
Oregano, dried
/g
1.0 g
0%
Blackpepper ground
/g
1.0 g
0%
Chili Con Carne
Filtered Water
/ml
250.0 ml
0%
Knorr Demi Glace Brown Sauce Mix 1KG
/g
25.0 g
0%
Knorr Pronto Italian Tomato Sauce
/g
50.0 g
0%
Yellow Onion, chopped
/g
20.0 g
0%
Garlic, chopped
/g
10.0 g
0%
Minced Beef
/g
100.0 g
0%
Kidney Beans, canned(can-drain)
/g
50.0 g
0%
Blackpepper ground
/g
1.0 g
0%
Cheese Dips
Filtered Water
/g
250.0 g
0%
Knorr Cheese Sauce Mix 750g
/g
40.0 g
0%
Cheddar or American cheese
/g
80.0 g
0%
Total Cost of Ingredients
Cost per Serving
Food Cost Margin
Tomato Salsa Dips
Red Onion, chopped

50.0 g

Jalapeno pepper(deseeded- chop)

30.0 g

KNORR Pronto Italian Tomato Sauce

200.0 g

KNORR® Lime Flavoured Powder

3.0 g
Chili Con Carne
Knorr Pronto Italian Tomato Sauce

50.0 g

Yellow Onion, chopped

20.0 g

Kidney Beans, canned(can-drain)

50.0 g
Cheese Dips
Cheddar or American cheese

80.0 g
---
Tomato Salsa Dips

40 minutes

Place the chopped red onion, jalapeno pepper and cilantro into mixing bowl.

Add the other ingredients into the mixing bowl.

Stir well and allow to sit in chiller for min. 1 hour.

Dips is ready to be served with Nachos Chips


Chili Con Carne

Dissolve Knorr Demi Glace Brown Sauce in water. Bring to boil to thick. Add in Knorr Pronto Italian Tomato Sauce. Set this base sauce aside for later use.
Heat up oil, saute onion, garlic with bay leaf. Add in chili flakes, cumin powder and mince beef. Stir to cook the minced.
Add the prepared base sauce into it. Then season with sugar, Knorr Chicken Stock and pepper. Add in kidney bean.

Sauce is ready to be served with Nachos Chips


Cheese Dips

Mix water with Knorr Cheese Sauce. Dissolve well. Bring to boil.

Add grated cheddar cheese. Stir well until it dissolve smoothly.

Serve sauce warm with nachos chips.