Pizza Gunting
New trend for pasar malam in Malaysia, creamy taste of mayo serve on top of pizza, local style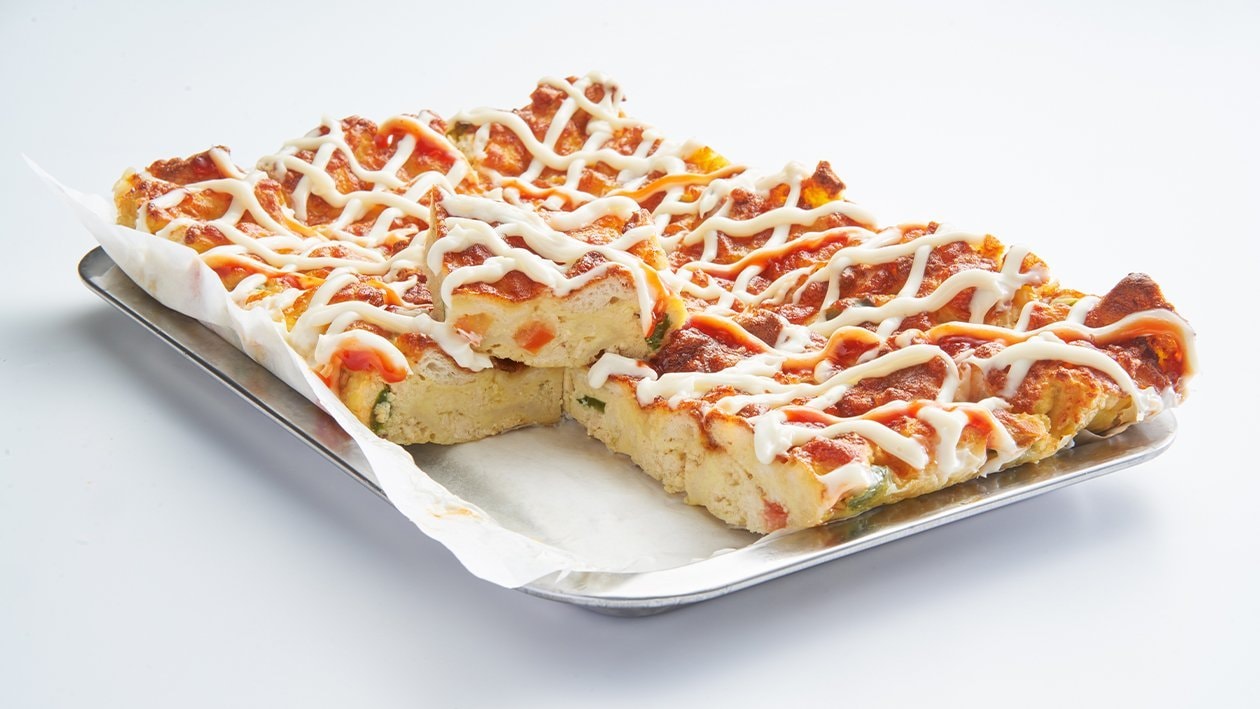 Ingredients
Pizza Gunting
Calculate Dish Cost
Total Cost of Ingredients
RM0.0
Pizza base and filling
Sandwich Bread, cut cube
/pc
9.0 pc
0%
Red Onion paste
/g
50.0 g
0%
Garlic Paste
/g
20.0 g
0%
Minced Chicken
/g
400.0 g
0%
Green Capsicum
/g
50.0 g
0%
Tomato (Cube)
/g
50.0 g
0%
Knorr Pasti Sedap (All In One Seasoning) 750g
/g
20.0 g
0%
Mozzarella Cheese
/g
100.0 g
0%
Topping
Knorr Chili Sauce
/g
20.0 g
0%
Lady's Choice Mayo Magic 1L
/ml
120.0 ml
0%
Total Cost of Ingredients
Cost per Serving
Food Cost Margin
Pizza base and filling
Sandwich Bread, cut cube

9.0 pc

Knorr Pasti Sedap (All In One Seasoning) 750g

20.0 g

Mozzarella Cheese

100.0 g
Topping
Preparation
Pizza base and filling

Heat up oil, saute onion and garlic paste to fragrant.
Add chicken mince to cooked.
Add capsicum and tomato. Season to taste.
In another bowl, break eggs and then pour into the chicken and bread.
Combine well.
Place in baking tray with glazing Margarine.
Topping with mozza cheese.
Bake in the oven for 10 minutes at 170ᵒC

Topping

Before serve, drizzle with chili sauce and Lady's Choice Mayo Magic. Cut and serve.