Salad with Teriyaki Quail, Asparagus and Bok Choy
Teriyaki is a Japanese cooking technique and a marinade of mirin, sugar and soy sauce. The meat or fish is first marinated and then fried, creating a shiny coating.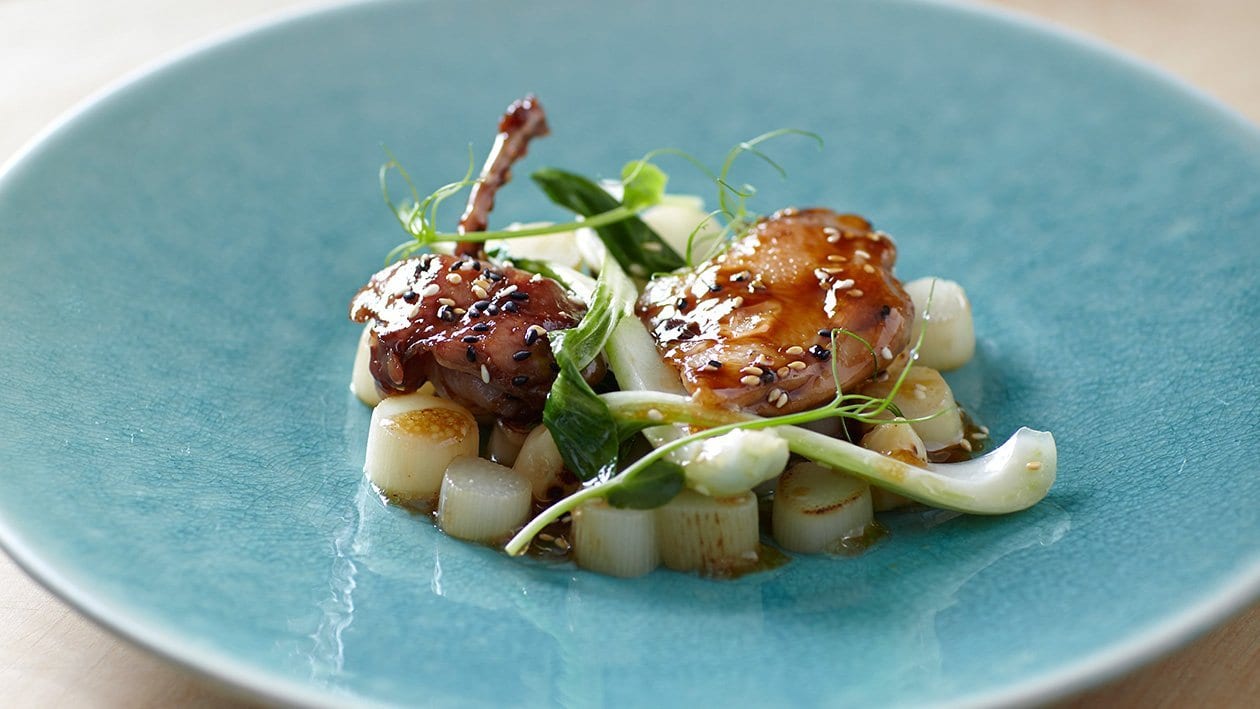 Ingredients
Teriyaki
Sesame Seeds, mixed

10.0 g
Garnish
White Asparagus, cooked

20.0 g

Veg, Siow Bak Choy (Baby Bak Choy)

30.0 g

Phase with Natural Butter Flavour

5.0 g

Knorr Teriyaki Sauce

50.0 ml
Presentation
Preparation
Teriyaki

Boil the sugar with the mirin and soy sauce and allow to cool.
Cut the quail breasts and vacuum seal with half of the teriyaki sauce.
Clean the legs and vacuum seal with the rest of the teriyaki sauce.
Cook the quail legs for 40 minutes at 67°C in a combi steamer.
Cook the quail breasts for 20 minutes at 67°C in a combi steamer.
Roast the sesame seeds in a dry pan.
Remove the quail breasts and the legs from the vacuum bag.
Glaze the quails with the teriyaki sauce in a Teflon pan and sprinkle them with sesame seeds.

Garnish

Cut the asparagus into pieces and the bok choy into strips.
Fry the asparagus with the bok choy on a high fire in some Phase.
Add 50gm Knorr Teriyaki Sauce to the vegetables.

Presentation

Divide the asparagus over the plates with the bok choy.
Place the teriyaki quail on top and add the rest of the vinaigrette.
Garnish with the crazy pea.