Tomatoes and Watermelon with Pomegranate and Basil
Wild chickweed is not only popular among birds, but is also frequently found in the kitchen nowadays. This weed can be found year-round growing together with green plants in fields, on the edges of parks and also in gardens.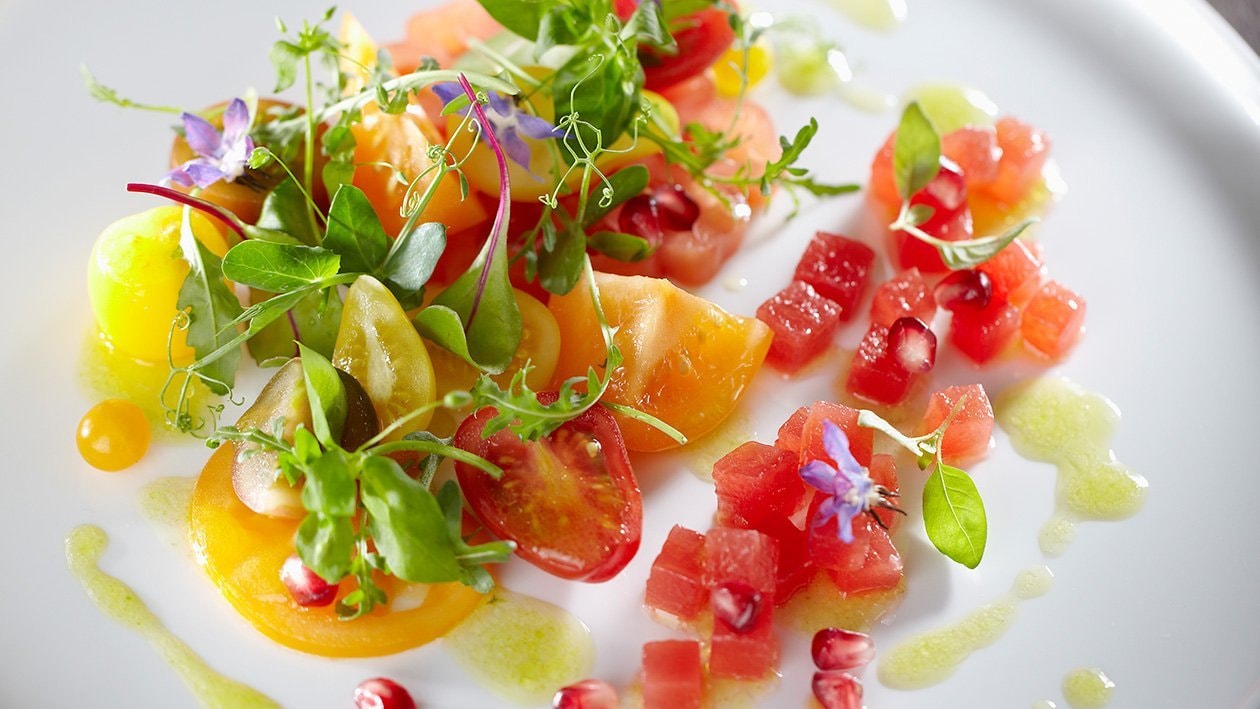 Ingredients
Cut Watermelon
Fruits, Watermelon

500.0 g

Basil Vinaigrette

150.0 g
Basil Vinaigrette Dressing
Basil, finely chopped

10.0 g
Garnish
Mixed Tomatoes (cherry, brown sugar, olivetti, tomberry, honey and yellow tomatoes)

1.5 kg
Presentation
Preparation
Cut Watermelon

Clean the watermelon and cut into nice square pieces.
Put the watermelon in a mixing bowl with some of the basil vinaigrette and then put everything into a vacuum machine.
Vaccum the bag twice so that the melon absorbs the vinaigrette nicely.

Basil Vinaigrette Dressing

Mix well all the ingredients in mixing bowl. Ready to use.

Garnish

Clean the Pomegranate.
Cut the tomatoes into different shapes (halved,sliced,cubes).

Presentation

Spread the tomatoes, watermelon and pomegranate over the plates.
Mix the rocket, chickweed, beetroot leaves and affilla cress and divide over the tomatoes.
Finish the salad off with the rest of the basil vinaigrette and borage.