Ancient Meat with Knorr Curry Leaves Gravy
Raja Kuah Knorr 2016's winning dish, from Chef Budiman Bistari Mohamed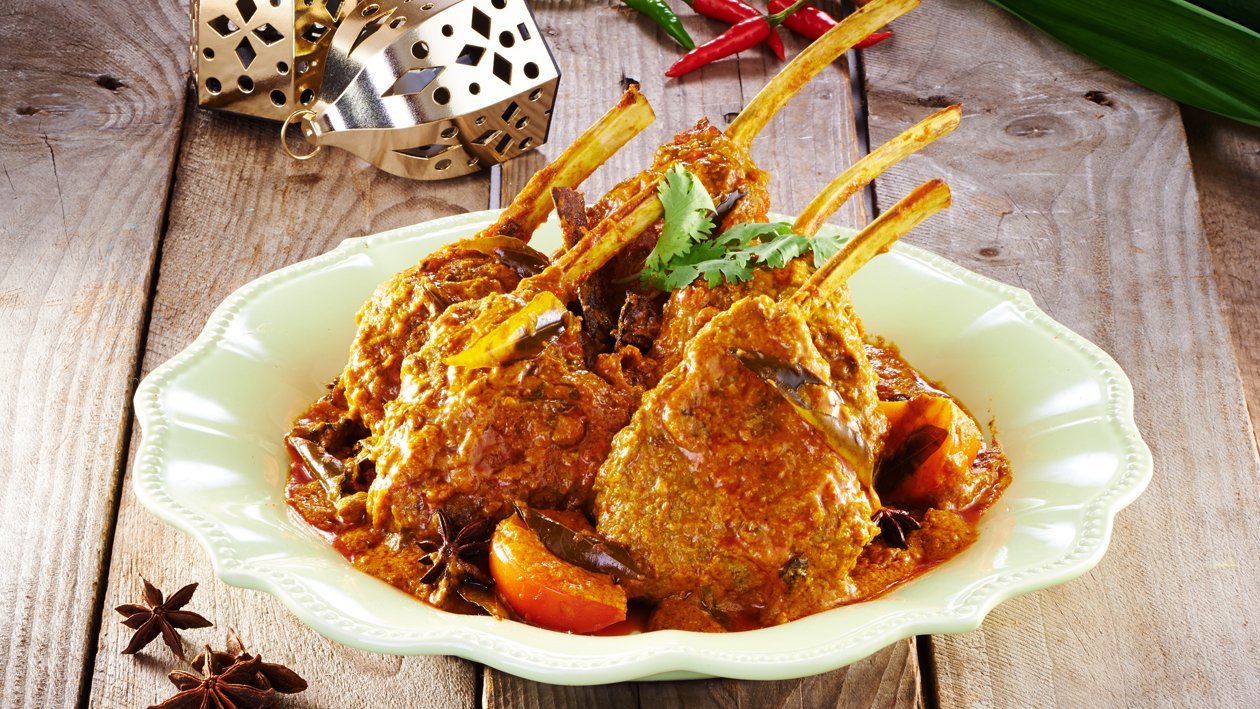 Ingredients
Ancient Meat with Knorr Curry Leaves Gravy
Calculate Dish Cost
Total Cost of Ingredients
RM5.4
Spice Paste
Cinnamon (1 inch)
/pc
20.0 pc
0%
Pandan Leaves
/pc
1.0 pc
0%
Shallot, sliced
/g
200.0 g
0%
Garlic, sliced
/g
50.0 g
0%
Red & Green Chillies, roughly chopped
/g
20.0 g
0%
Coriander Leaf, roughly chopped
/g
20.0 g
0%
Parsley, roughly chopped
/g
10.0 g
0%
Curry Leaves
/g
20.0 g
0%
Fresh Tomato, roughly chopped
/g
60.0 g
0%
Curry Powder, mixed with water
/g
250.0 g
0%
Chilli Powder
/g
50.0 g
0%
Turmeric Powder
/g
30.0 g
0%
Protein
Meat Fats / Ghee
/g
100.0 g
0%
Minced Meat Joints
/g
500.0 g
0%
DProd, Yoghurt, Plain
/g
200.0 g
0%
Cold Water
/ml
600.0 ml
0%
Black Pepper, Salt & Sugar to taste
/g
0.0 g
0%
Total Cost of Ingredients
Cost per Serving
Food Cost Margin
Spice Paste
Cinnamon (1 inch)

20.0 pc

Red & Green Chillies, roughly chopped

20.0 g

Coriander Leaf, roughly chopped

20.0 g

Parsley, roughly chopped

10.0 g

Fresh Tomato, roughly chopped

60.0 g

Curry Powder, mixed with water

250.0 g
Protein
Minced Meat Joints

500.0 g

DProd, Yoghurt, Plain

200.0 g

Black Pepper, Salt & Sugar to taste
Preparation
Spice Paste

Heat up ghee, sauté shallots and pandan leaf till fragrant.
Add in garlic, ginger, spices, red chilies, green chilies, coriander leaves, parsley, curry leaves and tomatoes. Saute till it turns into a paste.
Add in curry powder, chili powder, turmeric powder and saute till oil rises to the surface. Turn the fire down.
Split the finished spice paste into two. Set aside one half, and season the other half with Knorr Chicken Stock, black pepper, salt and sugar. Leave to cool.

Protein

Marinate the minced meat with the seasoned spice paste.
Mix in a bit of yoghurt, fats or ghee.
Paste the minced meat onto the rib and leave to marinate for an hour in the refrigerator.
Once cool, brown the prepared meat for 2 minutes to seal in the juices and to enhance the taste of curry on the meat. Set aside.

Gravy

Using the same pan as where you browned the meat, use the remaining ghee to saute the remaining spice paste.
Add the water and yoghurt. Bring to boil.
Add in the browned meat and season with Knorr Chicken Stock, black pepper, salt and sugar. Cook till gravy comes to a boil and the meat has cooked completely.

Assembly

Serve with zaatar bread or cooked white rice.