Black Squid Ink Ravioli with Szechuan Grilled Chicken Filling
An upgrade to the art of how to cook pasta, this recipe challenges chefs to make their pasta from scratch with squid ink and a filling that uses the best of Chinese and Italian ingredients.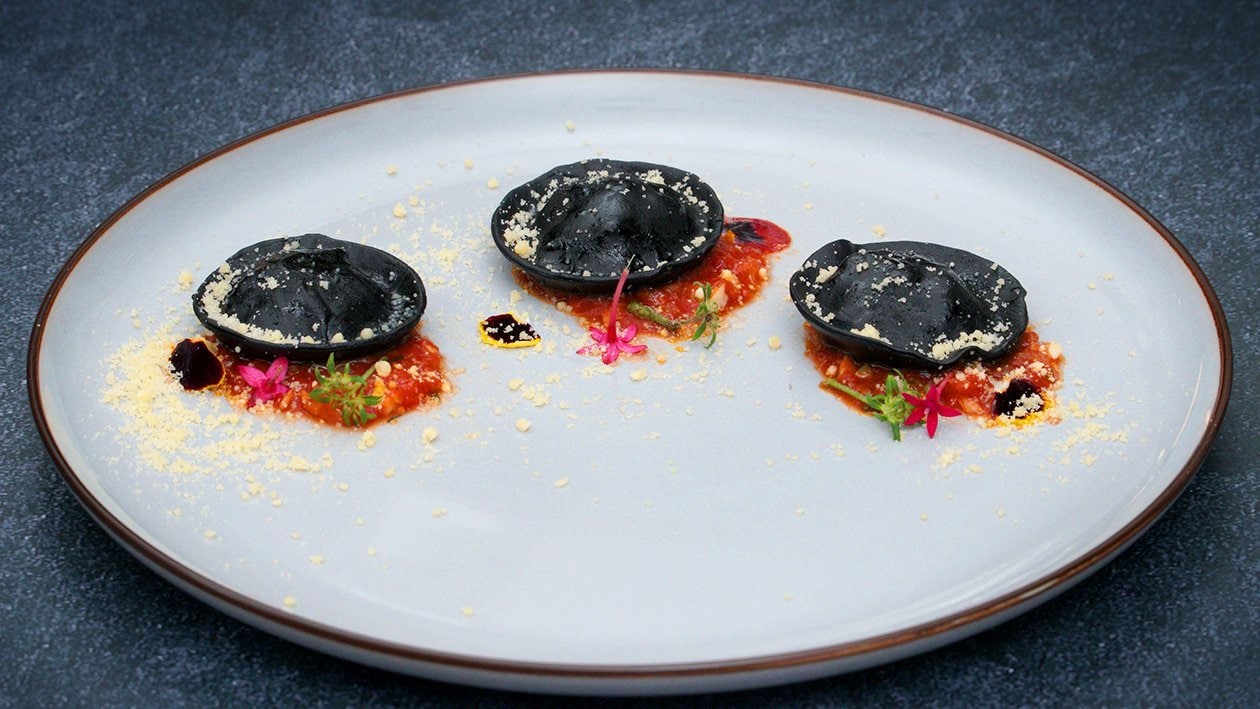 Ingredients
Squid Ink Pasta Dough
Pomodoro Sauce
Fresh Mixed Herbs (Oregano, Basil and Parsley)

20.0 g
Szechuan Grilled Chicken Filling
Boneless Chicken Leg

300.0 g

Szechuan Peppercorns

10.0 g

Fresh Ginger, grated

5.0 g

Vegetable Oil, for grilling
Preparation
Squid Ink Pasta Dough

Combine flour, squid ink, egg yolk and egg in the bowl of a stand mixer. Fit the paddle attachment, then mix briefly until combined.
Mix the eggs together. Make a well in the middle of the dry ingredients and pour in the egg mixture. Set mixer to low speed and blend until combined. Remove paddle and attach dough hook. Knead on low speed for 3 to 4 minutes, or until the dough is firm.
Shape the dough into a ball, then flatten. Wrap tightly in a plastic wrap and let it rest in the fridge for 4 to 5 hours.

Pomodoro Sauce

In a saucepan, sauté the garlic and onions in oil for 2 minutes over medium heat.
Add Knorr Pronto Italian Tomato Sauce and herbs, then continue to cook for 5 minutes or until the tomatoes are soft. Season with salt, pepper and pinch of sugar.

Szechuan Grilled Chicken Filling

In a small skillet, toast the Szechuan and black pepper until fragrant for about 1 minute, then let it cool.
Grind the peppercorns, and transfer to a bowl. Mix it with salt, ginger, garlic and sesame oil until becomes a paste.
Spread half of the paste on the chicken meat, then rub the remaining paste all over the skin.
Sprinkle the grill pan with oil. Set the chicken on the grill pan, skin side down. Grill on each side about 6 minutes, or until cooked.
Dice the chicken, then mix with hoisin sauce. Set aside.

Prepare to Serve

Cut the pasta dough into 4 pieces. Take one piece and lightly dust with flour, while rolling and folding the dough with a rolling pin. Repeat this once or twice more, or until the dough is smooth.
Once the dough is smooth, stop folding, then start rolling with the pasta machine until the desired thinness is achieved. Dust the sheet of pasta with flour occasionally.
Lay the pasta sheet flat to make the ravioli. Brush the top surface of the dough with egg wash. Place 1 tbsp of Szechuan grilled chicken filling about 5 cm apart on half of the pasta sheet.
Cover with another pasta sheet. Using your fingers, gently press out any air pockets around each mound of filling and form a seal. Use a ring cutter to cut each pillow into a round shape. Check to make sure the crimped edges are well-sealed before cooking. When making ravioli in advanced, dust with cornmeal to prevent them from sticking to each other.
Add salt to water, bring to a boil, then add the ravioli. Let it cook for 10 to 15 minutes, or until it floats to the top. Lift the ravioli from water with a large strainer or slotted spoon. Plate the pasta and serve with pomodoro sauce.