Roulade Kofta Rice with Aromatic Fruit Acar
Fruit Acar is a popular side dish in Malay weddings, and lends this dish a nice contrast of flavours.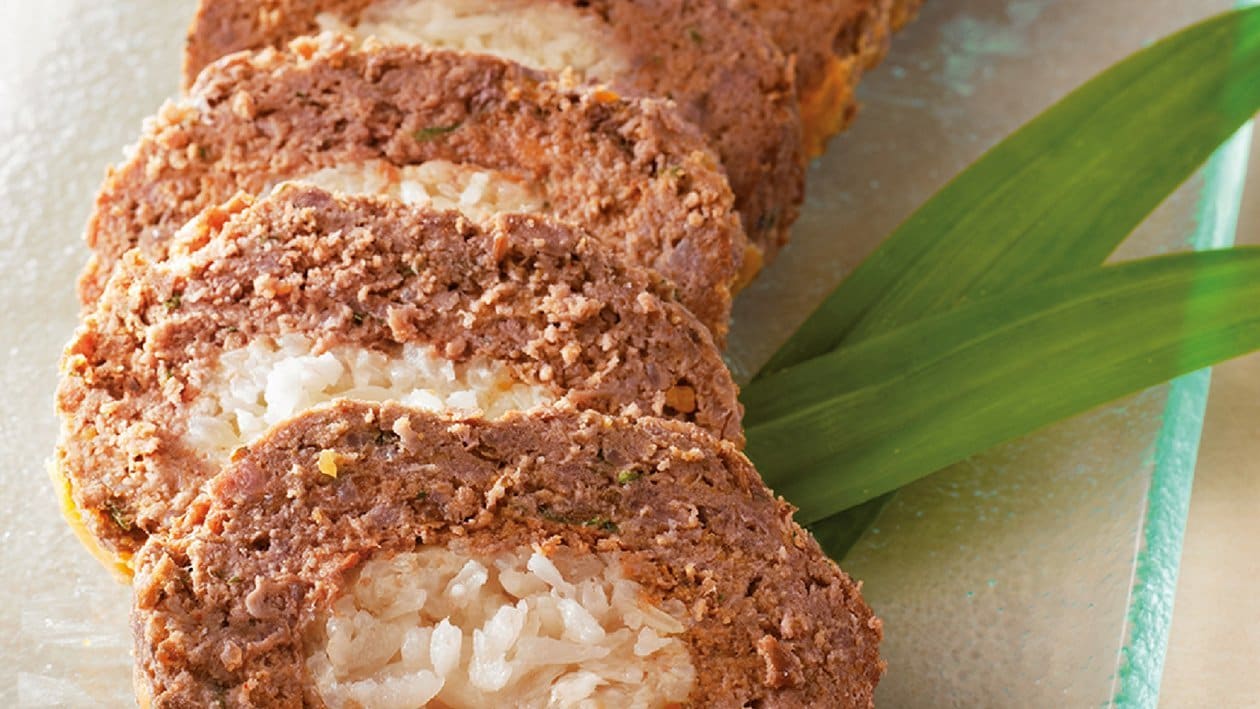 Ingredients
Kofta Rice
Basmathi Rice, washed, soaked, drained

1000.0 g

Young Ginger, smashed

50.0 g
Kofta Meat
Mint Leaf, chopped

40.0 g
Roulade Kofta Rice
Aromatic Fruit Acar
Young Ginger, sliced

20.0 g
Preparation
Kofta Rice

Place tossed Basmathi rice in chaffing dish.
Melt margarine in a pot, saute Bay Leaf, cumin and seed seeds till fragrant.
Sweat shallot, garlic and ginger until fragrant. Transfer and mix with Basmathi rice.
Add in filtered water, Knorr Chicken Stock. Covered and steam at 100° Celsius, for 45 minutes.
Once cooked, gently coat prepared rice with Lady's Choice Real Mayonnaise. Set aside.

Kofta Meat

Mix all the ingredients , lay the meat at the aluminium foil and flatten it evenly.

Roulade Kofta Rice

Place cooked "Basmati Rice", onto flattened minced lamb meat and press it evenly.
Flip over on the aluminium foil and roll, until both lenghts meet. Gently press to form the roll.
Bake in pre heated oven at 160° Celsius, for 20 minutes. Discard from aluminium foil,portion to serve.

Aromatic Fruit Acar

Heat pan with margarine.
Turn down the heat, add bay leaf, cumin and fennel seed. Add dried mix fruit.
Add filtered water and continue to stir -fry for another 2 minutes. Season to taste with Knorr Chicken Stock.

Assembly

Arranged prepared "Roulade Kofta Rice".
Served with prepared "Aromatic Fruit Acar".