Screwpine Mint Syrup on Shaved Ice
Screwpine, more commonly known as pandan, is a common Malaysian flavouring for desserts and lends dishes that uniquely comforting taste.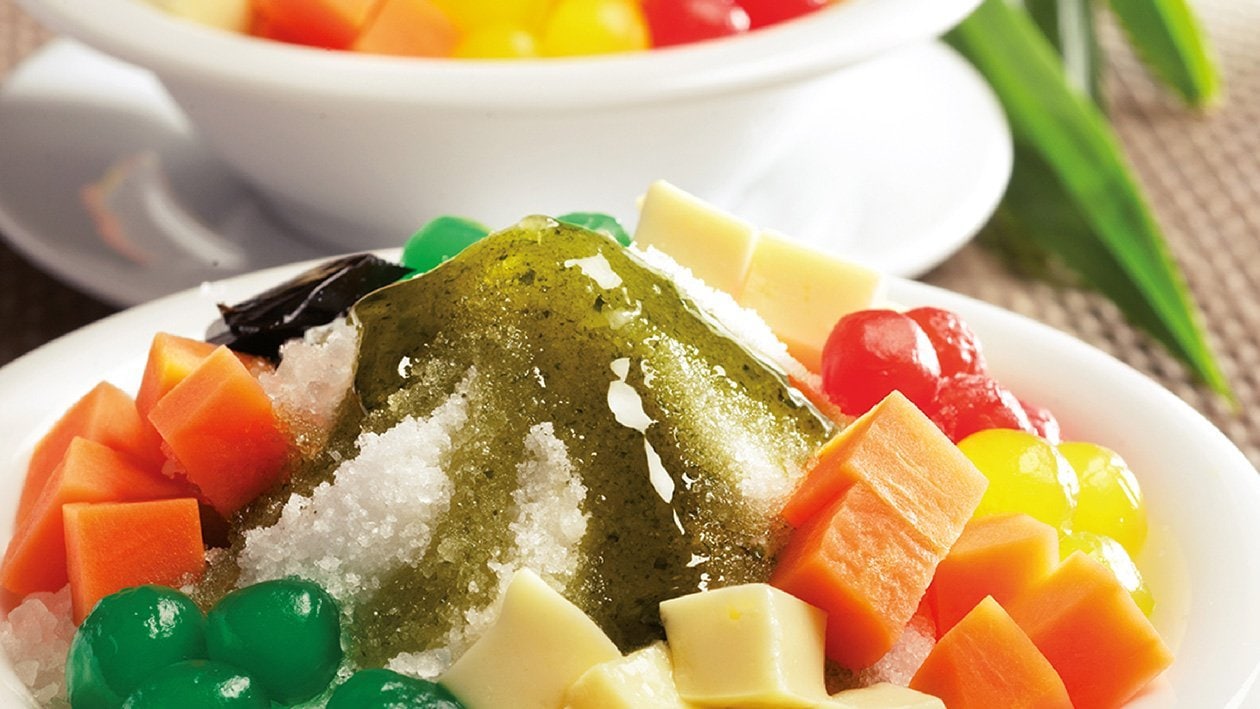 Ingredients
Pandan Extract
Screwpine Mint Syrup Preparation
Mint Leaf, chopped

100.0 g

Screwpine Leaf Extract

50.0 g
Coconut Vanilla Flan
Young Coconut Flesh

200.0 g
Preparation
Pandan Extract

Place screwpine leaf and water in a sauce pot and bring to a boil. Reduce to thicken the liquid.

Screwpine Mint Syrup Preparation

Cut the pandan leaf into strips, add in water and blend to get the pandan extract.
Process the pandan leaves until completely pulverized.
Lastly strain it and transfer to a bowl and keep in chilled.

Coconut Vanilla Flan

Heat up full cream milk into warm, low down the heat, then pour in Carte D'Or Vanilla Flan and stir it well.
Spoon in young coconut flesh and mix it well until smooth. Pour into the individual bowl to set in chiller.
Once it set, cut into 2cm cube.

Condiments & Assemble

Blanch sweet potato to soften the texture. Set aside in cold water.
Put a mould if finely shaved ice onto serving bowl, placing all the condiments, sago, coconut vanilla flan and sweet potato.
Flavour it with screwpine mint syrup. Ready to serve immediately.