Read More
Spicy Green Chilli Burger with "Ayam Kepuk"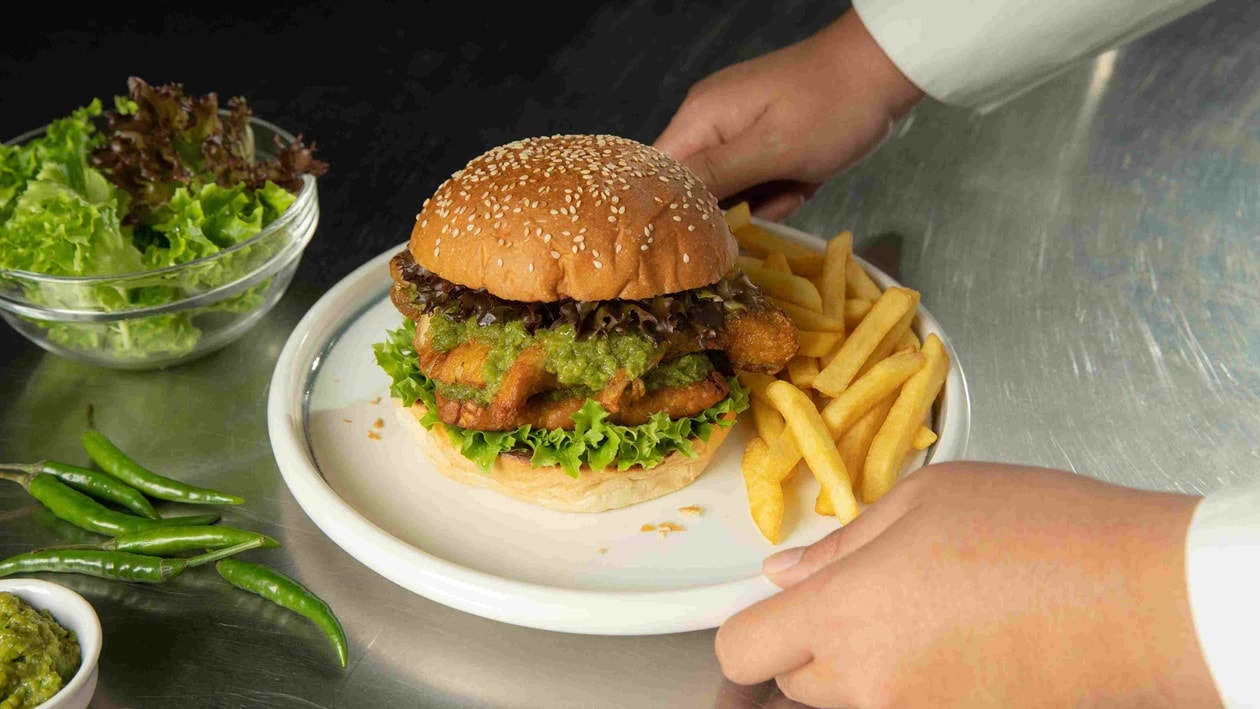 Ingredients
Spicy Green Chilli Burger with "Ayam Kepuk"
Calculate Dish Cost
Total Cost of Ingredients
RM27.37
Spicy Green Chili Sauce
Chilli Padi, green
/g
50.0 g
0%
Green Chillies
/g
250.0 g
0%
Ayam Kepuk Patty
Chicken Chop
/kg
1.0 kg
0%
Filtered Water
/ml
1000.0 ml
0%
Tumeric Powder
/g
5.0 g
0%
Ginger, smashed
/g
50.0 g
0%
Garlic, smashed
/g
20.0 g
0%
Red Onion (smashed)
/g
50.0 g
0%
Burger Build
Spicy Green Chili Sauce (prepared) 50 gm
/
0.0
0%
Ayam Kepuk Patty 1 pc
/
0.0
0%
Tempeh (deep fried)
/pc
2.0 pc
0%
Total Cost of Ingredients
Cost per Serving
Food Cost Margin
Spicy Green Chili Sauce
Chilli Padi, green

50.0 g
Ayam Kepuk Patty
Red Onion (smashed)

50.0 g
Burger Build
Spicy Green Chili Sauce (prepared) 50 gm

Tempeh (deep fried)

2.0 pc
---
Spicy Green Chili Sauce

1/2 hours

Blend ingredients (excep sugar chicken stock) into paste.

Saute the blended paste till fragrant

Add fine sugar and chicken stock and continue to stir

Allow to simmer for 3 minutes, set aside for later use.


Ayam Kepuk Patty

Put all ingredients except chicken chop for "Ayam Kepuk" in a pot, then bring to boil.

Once boiled, add in chicken chop and continue to boil until it is cooked. When done, place the cooked chicken chop into chiller to cool it down.

Deep-fry cooked chicken chop until crispy. Set aside for later use.


Burger Build

Marinade tempeh with turmeric powder and deep-fry it.
Smash (or 'kepuk') the fried chicken chop before serving.
Assemble "Burger Build" in sequence, and dish is ready to be served.