Spicy Smoked Beef Cooked in Turmeric-Coconut Gravy
Winning dish from Raja Kuah Knorr 2018 champion: Siti Nor Yuwana Zulkifli
Main Course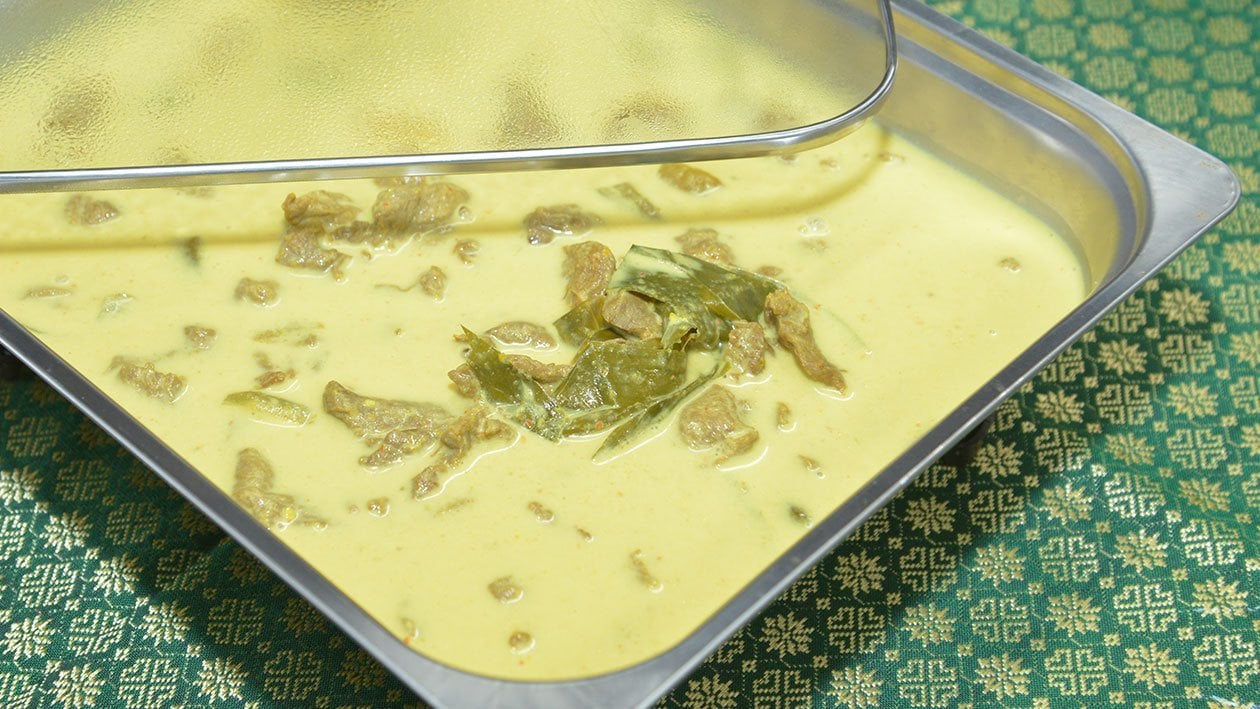 Ingredients
Spicy Smoked Beef Cooked in Turmeric-Coconut Gravy
Calculate Dish Cost
Total Cost of Ingredients
RM0.0
Marinade
Turmeric Powder
/g
0.0 g
0%
Smoked Beef
Banana Leaf
/pc
0.0 pc
0%
Blended Paste
Bird's Eye Chilli
/pc
10.0 pc
0%
Turmeric (raw)
/cm
5.0 cm
0%
Cooking
Turmeric Leaf
/strips
3.0 strips
0%
Coconut Milk
/ml
1000.0 ml
0%
Starfruit Reed
/pc
4.0 pc
0%
Sun-dried Turmeric
/pc
2.0 pc
0%
Total Cost of Ingredients
Cost per Serving
Food Cost Margin
Marinade
Smoked Beef
Blended Paste
Bird's Eye Chilli

10.0 pc
Cooking
Sun-dried Turmeric

2.0 pc
Preparation
Marinade

Mix turmeric powder and salt to marinade.
Place it in the fridge overnight.

Smoked Beef

Place banana leaf on the wok.
Sprinkle some cooking oil on the banana leaf.
Once cooked, slice the beef thinly.

Blended Paste

Grind the bird's eye chillies and raw turmeric using pestle and mortar.

Cooking

Put in blended paste into a pot (ideally claypot).
Add in smoked beef, turmeric leaves and a small bowl of water. Mix it well.
Let it boil for a while.
Pour in coconut milk, add in Knorr Chicken Stock and stir-well.
Add in sun-dried tamarind and starfruit reed to achieve the sourness.
Salt and sugar to taste.