Chilli Crab in Choux Pastry
Flavor of Southeast Asia: Wok-fried chili crab on mini mantou, drizzle with hoisin dressing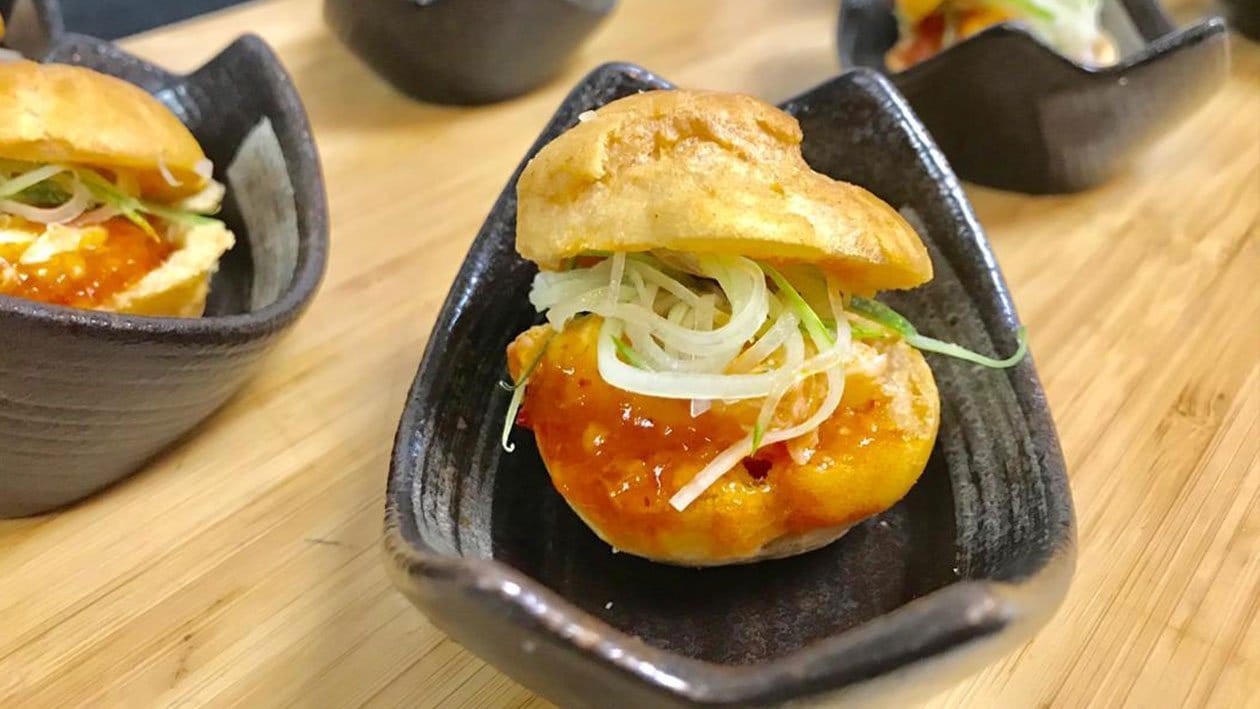 Ingredients
Chilli Crab in Choux Pastry
Calculate Dish Cost
Total Cost of Ingredients
RM14.19
Chilli Crab
Garlic, chopped
/g
10.0 g
0%
Onion, chopped
/g
10.0 g
0%
White Vinegar
/ml
30.0 ml
0%
Knorr Pronto Italian Tomato Sauce 2KG
/g
600.0 g
0%
Cooking Oil
/ml
20.0 ml
0%
Knorr Tomato Sauce 3.2kg
/g
90.0 g
0%
Oyster sauce
/g
90.0 g
0%
Salted Egg Sprinkle
Knorr Golden Salted Egg Powder 800G
/g
80.0 g
0%
Curry Leaf, deep-fried & crushed
/g
20.0 g
0%
Fried Garlic
/g
30.0 g
0%
To Serve
Frozen Choux Paste (Ready To Use)
/pc
20.0 pc
0%
Spring Onion, chiffonade
/g
50.0 g
0%
Red chilli, chifonade
/g
50.0 g
0%
Total Cost of Ingredients
Cost per Serving
Food Cost Margin
Chilli Crab
Knorr Tomato Sauce 3.2kg

90.0 g
Salted Egg Sprinkle
Curry Leaf, deep-fried & crushed

20.0 g
To Serve
Frozen Choux Paste (Ready To Use)

20.0 pc

Spring Onion, chiffonade

50.0 g

Red chilli, chifonade

50.0 g
Preparation
Chilli Crab

Heat up pot with oil, stir fry chopped garlic and ginger till fragrant.
Add in sambal, stir fry till caramalised.
Add in Pronto Tomato Sauce, and bring to boil.
Add in oyster sauce, sugar, vinegar, and ketchup. Let it simmer for 10 minutes.
Fold in crab meat, and let it simmer for 2 mins.
Lastly, fold in egg wash. Set Aside.

Salted Egg Sprinkle

Melt margarine and mix with other ingredients stir well.
Heat in microwave for approximately 1 minute and 30 second. Add in remaining ingredients.
Stir well and set aside.

To Serve

Slit choux pastry in half, spoon in chilli crab and salted egg sprinkle.
Garnish with Spring Onion, Red Chilli, and Red Chilli.