Knorr Italian Herb Paste 1.5kg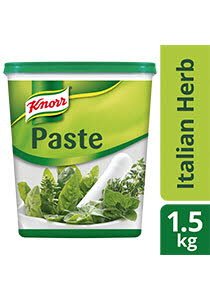 All product information
Nutrition and allergens
Halal
Ingredients
Sugar, Salt, Palm Olein, Palm Fat, Monosodium Glumate, Yeast Extract, Oregano, Garlic, Chilli, Blackpepper, Basil, Citric Acid, Thyme, Spices (Contain Soybean), Contain Permitted Flavouring (Contain Celery).
Allergen Information
All food additives are of plant origins. May contain traces of cereals containing gluten, egg, fish, crustasean, mollusc, milk, peanut and tree nuts.
Nutrition Information
| Typical values | Per 100 g as sold | Per 100 ml as sold | Per portion |
| --- | --- | --- | --- |
| Energy kJ | 1,154.00 kJ | - kJ | 63.00 kJ |
| Energy kcal | 275.00 kcal | - kcal | 15.13 kcal |
| Protein | 6.10 g | - g | 0.30 g |
| Carbohydrate, by difference | 68.80 g | - g | 3.80 g |
| Sugars, total | 18.90 g | - g | 1.00 g |
| Total lipid (Fat) | 1.50 g | - g | 0.10 g |
| Fatty acids, total monounsaturated | 0.50 g | - g | 0.00 g |
| Fatty acids, total polyunsaturated | 0.30 g | - g | 0.00 g |
| Fatty acids, total saturated | 0.40 g | - g | 0.00 g |
| Fatty acids, total trans | 0.00 g | - g | 0.00 g |
| Fibre, total dietary | 2.10 g | - g | 0.10 g |
| Sodium, Na | 5,920.00 mg | - mg | 330.00 mg |