Knorr Rock Sugar Honey 3kg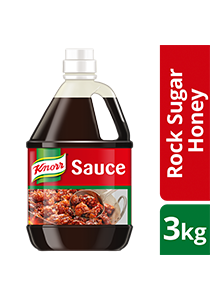 Total Price
RM55.25
Recommended Retail Price ex 6% GST
UFS Online Rewards Points
55 Points
Article Code
67087109
9556024713149
19556024713146
Preparation
300g of chicken for servings of 5
1. Heat 120g of Knorr Rock Sugar Honey Sauce in wok and add in fried chicken.
2. Cook over low heat and toss till sauce is caramelised and evenly coated over chicken.

Storage
Store in a cool and dry place. Refrigerate at 4-10°C after opening and do not freeze.
Benefits
Highly versatile and easily extended into other sauces
Gives food a superior coating and aromatic sweetness
Time, labor & cost savings
Uses only premium quality ingredients: Yellow Rock Sugar and Real Honey
Halal certified and produced in a GMP & HAACP verified factory

Allergen Information
All food additives used are from plant and synthetic origins. May contain traces of cereals containing gluten, eggs, milk, peanut and tree nuts.
Ingredients
Yellow Rock Sugar, Soy Sauce (Contains Wheat), Tomato Sauce, Glucose, Oyster Sauce (Contains Wheat, Crustaceans, Molluscs, Fish), Honey, Contains Permitted Flavourings, Flavor Enhancers (E621, E635), Salt, Yeast Extract, Citric Acid, Caramel.
Description
A one-step premium honey base sauce.


Nutrition Information

Portion size = 24g

| Typical values | Per 100 g as sold | Per 100 ml as sold | Per portion |
| --- | --- | --- | --- |
| Energy kJ | - kJ | - kJ | 0.00 kJ |
| Energy kcal | 320.00 kcal | - kcal | 76.80 kcal |
| Protein | 1.30 g | - g | 0.30 g |
| Carbohydrate, by difference | 78.50 g | - g | 18.80 g |
| Sugars, total | 62.00 g | - g | 14.90 g |
| Total lipid (Fat) | 0.20 g | - g | 0.10 g |
| Fatty acids, total monounsaturated | 0.10 g | - g | 0.00 g |
| Fatty acids, total polyunsaturated | 0.00 g | - g | 0.00 g |
| Fatty acids, total saturated | 0.10 g | - g | 0.00 g |
| Fatty acids, total trans | 0.00 g | - g | 0.00 g |
| Fibre, total dietary | 0.70 g | - g | 0.20 g |
| Sodium, Na | 1,820.00 mg | - mg | 437.00 mg |

*% of Reference Intake of an average adult 8400kj/2000kcal